Thousands March on Richmond
Chants of "Enough is enough! Enough is enough!" echoed throughout the streets of Richmond, as students led the sea of marchers to the Capitol. Drums cut through the crisp air, beating to the rhythm of the cries. On Saturday, March 24, 2018, over 5,000 people marched for their lives from Martin Luther King Jr. Middle School to the Virginia State Capitol.
After the shooting at Marjory Stoneman Douglas High School on February 14th that claimed 17 lives, students across the nation stand determined to prevent another tragedy like this from happening. After the successful nationwide walkout on March 14th, the survivors of the Parkland shooting announced that they would organize a march on D.C., called March For Our Lives. Students from Richmond Public Schools, along with other organizations like Moms Demand Action-RVA and the Richmond Youth Peace Center, organized the sister march in Richmond.
The march started at 10 AM on the fields of Martin Luther King Jr. Middle School, where student speakers shared their opinions. "My generation is speaking out and marching today because the lack of safety in our schools and in our country must change," said Emmaline Clark, a sophomore at Richmond Community High School.
Students invited Mayor Levar Stoney, Senator Tim Kaine, and Richmond Superintendent Jason Kamras to speak at the march. "I've been Superintendent of Richmond Public Schools for 53 days," said Kamras, also known for his 2005 National Teacher of the Year Award. "In that time, six of our students have been shot, two of whom have died," he said. "If that's not the definition of a crisis, I don't know what is. Enough is enough."
Senator Kaine and Mayor Stoney had nothing but kind words for the crowd and the students involved in activism. "Congress and the General Assembly has a hard time finding a way to do anything," said Kaine, "but they've never had to come up against high schoolers before." The crowd cheered in agreement. Mayor Levar Stoney also praised the students, saying, "I am more inspired walking out than ever before. I think there's a real possibility for change."
The march then moved over to the State Capitol. With students at the front of the crowd, they marched over a mile. Thousands of people chanted until they stopped at the Bell Tower, waiting for the student speakers to begin. "Change is coming!" the crowd screamed. "Enough is enough!" Once the chanting subsided, members of the Richmond Youth Peace Center read the names and ages of the 77 loved ones who fell victim to gun violence in Richmond last year. After a requested moment of silence, one speaker said, "Raise your hand if you have lost someone you love to gun violence." One out of every six demonstrators raised his hand. Charged determination soon replaced the thick silence, as the speakers declared the need for change.
Midlo seniors Sam Pierce and Vincent Mangano were among the thousands of people who marched with the crowd.  Mangano's sign read, "Congress, Take Action! We are students. We have a voice!". "We were there," Pierce said. "We marched. We're not going to stop until action is taken."
People from all ages and backgrounds marched on Saturday. For two hours, the people of Richmond in support of this cause took a stand against violence in schools and declared, "Enough is enough." High school students who strongly believe in their cause have taken the nation by storm, and there is no doubt that this is far from the last time they will let their opinions be heard.
About the Contributor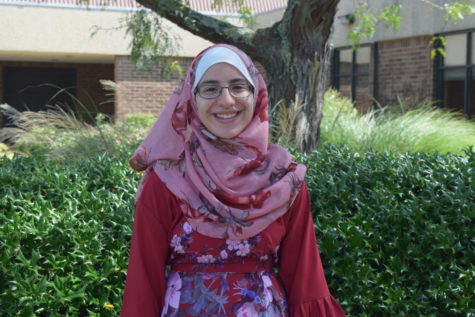 Nour Goulmamine, Midlo Scoop Staff