Watkins Teachers Receive Dr. Seuss-Themed Donation
Midlo Community Member Mrs. Diane Klotz donates to Midlo High and J.B Watkins Elementary
On Friday March 2, 2018, Dr. Seuss Day is observed across America as a day for students to appreciate Dr. Seuss' imaginative works. For  the second consecutive year, Mrs. Diane Kotz, a Midlothian community member and former Midlo parent, helped students celebrate this day by making a generous donation of two Dr. Seuss-themed pillows and books to the Midlo Service Learning Program. Mrs. Tully, Midlo's Service Learning Coordinator, then distributed the items to mentor teachers at J.B. Watkins Elementary School.
This is Mrs. Diane Kotz's second year donating to the students of Watkins. Last year, Mrs. Burnette's kindergarten class received a Dr. Seuss quilt, which hung this year in near the main entrance to celebrate the day. To choose this year's recipients, Mrs. Tully entered each Watkins mentor teacher in a drawing. The winners included: Mrs. Michelle McMullen's kindergarten class, whose service learning student is senior Megan Adamik, and Mrs. Adrienne Haskins first grade class, whose service learning student is senior Hayden Hicks.
On Dr. Seuss Day, the teachers were thrilled when Mrs. Tully delivered the gifts from Mrs. Klotz to their classrooms. As the service learning students shared the books with the children, they were especially excited to learn that they have never read the donated books before. Mrs. McMullen expressed her gratitude by finding a place of honor for the pillow and adding the new book, My, Oh My- A Butterfly!, to the class library.
Mrs. Tully explained, "We feel blessed to have such caring mentor teachers at our feeder schools who support the Midlo Service Learning program each year, and the extremely generous donations from Mrs. Klotz provide a wonderful treat to recognize and reward their hard work with CCPS elementary and high school children."
Thank you, Mrs. Diane Kotz, for your kind donations!
About the Contributor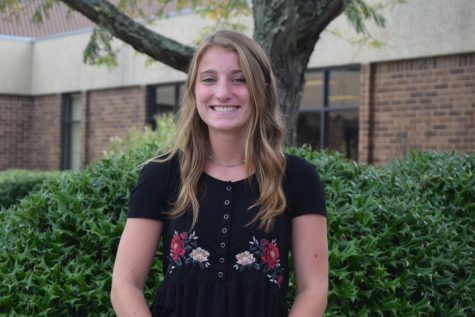 Maddie Burke, Copy Editor
Maddie Burke, Class of 2021