Dr. Lane Inspires Optimism
CCPS Superintendent Visits Midlo Service Learning Students
On Friday, January 26, 2018, amid the excitement of Winter Pep Rally Day, the Superintendent of Chesterfield County Public Schools, Dr. James Lane, visited Mrs. Jackie Tully's Service Learning class to offer words of advice and share insight into his educational journey. He began by asking how many service learners planned to embark on a career in education, explaining that educators usually fall into three categories: those who always wanted to be teachers and usually stay in the profession, those who teach for 3-5 years before moving on to another endeavor, and those who come to education after feeling unfilled in another career choice. He stressed the importance of lifting teachers up, so they feel excited about education and can share that enthusiasm with their students.
The Service Learning students had compiled a list of questions, ranging from snow-related items to inquiries about Dr. Lane's career and family.  At the start of Dr. Lane's presentation, he shared details of his life journey, the road he took to reach his current position as CCPS Superintendent. Recounting his early life and the struggles he faced living in poverty-stricken Kentucky, he explained the impact poverty has on schools and how it affected him first-hand. The Midlo students listened intently as Dr. Lane spoke passionately about education and his commitment to providing innovation and opportunities for all children.
He shared his early adventures as a musician in a band, explaining how he wove that passion into a teaching career as a band teacher.  Opportunity often occurs at "the intersection of skill and luck," he said, encouraging the students to recognize those opportunities and grasp them. Lane recounted the joy he felt as a young teacher, watching his students gain a love of music and nurturing the music program as it grew. Making the difficult decision to leave the classroom to become an assistant principal came when he realized that he "wanted to impact all students" on a larger scale. This drive eventually led him to rise to the position of superintendent in Goochland County Public Schools, where he won recognition as State Superintendent of the Year, before taking the helm at CCPS in 2016.
Each day, Lane commits to remain professional and positive at all times, encouraging optimism as a way of life and attributes Jim Collins' book, Good to Great: Why Some Companies Make the Leap… and Others Don't, as an inspiration for many of his leadership principles. He also credits a conversation with Houston Astros pitcher and former Goochland High baseball stand-out Justin Verlander with his resolve to remain even and calm in the face of adversity. Dr. Lane cautions against celebrating wins too excitedly or crying over losses, instead favoring a more measured approach of staying the course and moving ahead to make a positive impact. 
Lane shared that graduation is his "absolute favorite part of the year".  In June, when he attends the hectic schedule of twelve graduations in four days, he practices mindfulness "to be present in that moment" and enjoys shaking the students' hands and seeing the range of emotions, "happy- then sad- then curious about what comes next," reflected in their eyes.
Years of traveling with a band and a fondness for Diet Mountain Dew help him maintain his stamina, and his resolution to set aside Fridays and Saturdays as special time to enjoy his family and his passions, such as coaching basketball for Upward Youth Sports, continually refuels his mental focus. As Dr. Lane spoke from the heart to the twenty-two students in the Midlothian Service Learning class, his positive energy settled on everyone in the room, leaving these future teachers with a vivid message of hope and perseverance to take with them as they travel on their own journeys toward making a difference in children's lives.
About the Contributor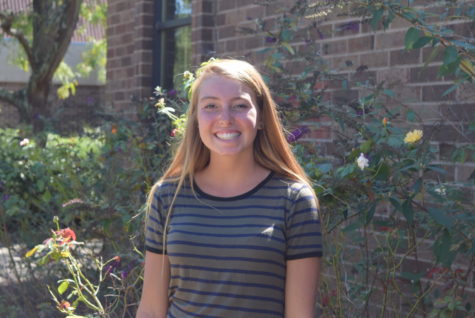 Eva Johnson, Midlo Scoop Staff
Eva Johnson, Class of 2018