Students Take on the Bitter Cold of Canada
On February 9, 2018, six Midlothian French students, senior Joy Li, senior Gregory Beckwith, senior Claire O'Brien, senior Max Turkaly, junior Julia Gagulska, and sophomore Annabel Schepker, accompanied by Mme. Catherine Mazzola, embarked on a journey to Quebec, Canada. They shuffled onto a bus with seven James River High School French students and traveled to Washington D.C.'s Reagan National Airport to board a one and a half hour flight to Montréal–Pierre Elliott Trudeau International Airport.
Arriving in Montreal on Friday afternoon, the group began to layer on extra socks, tights, and sweaters, as they prepared to endure the -7 degree low of their destination in Quebec city. Hopping off the bus to Quebec, the students met their tour guide for the next four days and began trekking through the ice and snow of Old Quebec, a historic neighborhood filled with restaurants, gelato spots, clothing stores, and souvenir shops. Here, at historic Old Quebec, students had a great view of the Chateau Frontenac, a grand castle-like hotel, deemed the most photographed hotel in the world. Following the tour of the historic neighborhood, the students headed to their hotel, Hotel Classique, for some rest before their first full day in the city.
When Saturday morning came along, the students filed out of their rooms and met to eat a sausage and pancake-filled breakfast before departing to Plains of Abraham to re-enact a 1759 battle under the command of generals Wolfe & Montcalm. The students learned how to prepare a cannon during war and how to amputate a leg. After the thrilling reenactment, the group walked to the Quebec-Lévis Ferry port to board a ferry. Leaning against the ferry rails, students watched as the ship crossed the St. Lawrence River, pushing through small triangular icebergs the size of minivans and experiencing a sailor's view of Chateau Frontenac and Quebec city. Later that night, the students enjoyed free time at the Carnaval de Québec, an annual winter carnival. Weaving through halls of embellished ice, they enjoyed the art and the ice sculptures within Bonhomme's Castle, the ice castle which is the home of the cartoon icon, Bonhomme. All bundled up, the Midlothian students participated in activities such as ice hockey, snowball fights, a petting zoo, and a Quebec themed trivia wheel. After sharing a meal at La Vieille Maison du Spaghetti Restaurant where classy, tattooed French-Canadian men served them bread, lasagna, and cakes, the group walked to the Night Parade, where hundreds of locals and tourists stood shivering in mountains of snow to watch narwhals, owls, and snow-beings come to life. Claire O'Brien reports that "all the feeling in my toes were gone" after watching the parade in subfreezing weather.
Tired after walking over nine miles the previous day, the James River-Midlothian lot, woke up exhausted but nothing short of ecstatic for the next day of Canadian activities. Following a ham and toast breakfast, they traveled to Montmorency Falls, where they walked over a suspended bridge that extends over the waterfall, which is 30 meters higher than the Niagara Falls. There, they discovered that the waterfall's mist would freeze due to the frigid temperatures of Quebec, creating ice mountains and iced over walls on adjacent cliffs, which some locals climb in a similar fashion to rock climbing. Taking a break from hiking, they visited the Copper Museum, learning how to create their own "Repoussé" pieces. Next, the group visited a chocolate factory hidden in the mountains. They sampled fudge, cookies, rich and decadent hot chocolate before heading to lunch at a sugar shack (not to be confused with Sugar Shack Donuts).  There, they danced and performed traditional Quebecois folk dance and song between their authentic Cabane à Sucre meal, consisting of sausage, potatoes, beans, meat pies, and pancakes dressed with famous Canadian maple syrup. Afterward, the group both made and tried their own maple syrup snow pops, produced from pouring syrup onto the snow from outside and then rolling up the stiffened syrup with Popsicle sticks. They ended the day by soaring down the Glissades de la Promenade, a massive sled hill, in classic snow sleds.
Lastly, on Monday, the final day of touring Quebec, the crew met up with several packs of huskies and proceeded to have them guide the groups through the snowy woods on sled. Weaving through a snowy wonderland on sleds led by beautiful huskies was noted to be "a dream come true" for Claire O'Brien.
Over the four days of bitter cold adventure, the students experienced an authentic Quebec winter, utilization of the French language in common day-to-day activity, and an acquisition of knowledge on French Canadian history, food, and sport.
Despite trudging through snow hours upon hours to find warmth in the destinations, it was a trip the Midlothian students will always cherish and remember.
About the Contributor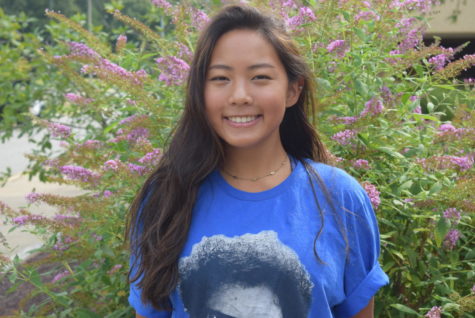 Joy Li, Midlo Scoop Staff