IB Offers Fresh Perspectives
International Baccalaureate Open House
What exactly is the International Baccalaureate (IB) program at Midlothian High School? On Thursday, October 19, 2017, students from different grade levels and schools visited the IB Open House receive answers to that very question. To begin the event, prospective families filed into the school, eager to learn more about the IB program. Midlo students and teachers welcomed curious visitors to the program, sharing their experiences and knowledge.
With the help of IB student volunteers, the night ran smoothly. Divided into three color groups, gold, green, and blue, guest visited different stations to learn more about the IB program. As blue team leader, sophomore Avnee Raje led her group to the auditorium for the first event of the night. About the event, she shared, "IB is a great program with an amazing community, and I want to spread that message to everyone at the Open House."
In the auditorium, IB Coordinator Mr. Mark Spewak explained the benefits of IB, highlighting the diversity of the program. "The great thing about IB is that it's for everyone," he said. "If you want to be a doctor, this is a great program for you. If you want to be a teacher, this a great program for you. If you want to be anything, this is a great program for you."
Visitors also listened to a panel of IB students from each grade level and asked them questions about the program. They also learned about the many different courses of IB and had the opportunity to speak extensively with the different teachers to learn more.
The International Baccalaureate Open House not only gave students and parents a preview of the IB program, but it also illustrated the opportunities, rigor, and diversity available at all CCPS specialty programs. 
About the Contributor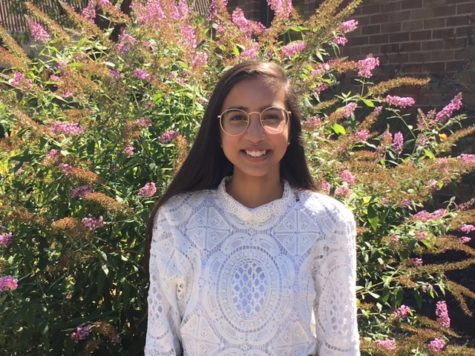 Nabiha Rais, Copy Editor
Nabiha Rais, Class of 2019