Winning with Rysedorph
Thomas Rysedorph Leads the Trojan Baseball Team
Lucas Via, Sports Writer
March 26, 2016|158 Views
Throughout recent years, Midlothian has developed a baseball team loaded with talented players who can compete with any team in the area. Many baseball teams can have an excellent batting lineup; however, if they lack the necessary pitching, winning games become difficult. Every team wishes for that one ace with the talent to shut down opposing batters, and Midlothian has that in senior Thomas Rysedorph.
Rysedorph comes back for his senior year at Midlothian as one of the best pitchers in central Virginia. He pitched multiple six inning shutouts as a junior, while also putting up excellent numbers as a sophomore. In the first round of the playoffs against rival Monacan, he pitched the first six innings without a run before the relief pitcher took the mound in the bottom of the 7th. Unfortunately, Midlo lost on a heartbreaking walk-off grand slam. When asked about the game, Rysedorph said, ¨It was a heartbreaking loss.¨ With his competitive attitude, he will do everything possible to prevent Monacan from knocking them out of the playoffs this year.
Baseball began for Rysedorph at a very young age, as he idolized former Yankees star and Hall-of-Famer Babe Ruth. While Babe Ruth didn't play during his childhood, he still enjoyed watching old Yankee games as a kid. Starting at such a young age has helped Rysedorph, as he has garnered interest from Hampden-Sydney, Marymount, and Virginia Wesleyan. However, he plans to attend James Madison University in the fall, where he is considering walking-on to the baseball team. With a 4.1 GPA, he succeeds in the classroom, as well as on the mound.
As a sophomore, Rysedorph enjoys reminiscing about some of his most memorable baseball moments. After each home win, the team goes into the locker room, turns off the lights, and blasts the song Jump Around by House of Pain, as they jump in celebration of their wins. Outside of baseball, Rysedorph stays quite active, as he enjoys hiking, running, and eating his favorite burrito from Chipotle.
Midlo started the season with a close win over a talented Atlee squad 11-10, as Rysedorph opened up as the starting pitcher. A ten-run 6th inning in large part led to the victory. However, a tough loss to Monacan opened their second week of the regular season. When asked about his goals for this season, Rysedorph simply stated, ¨to make the state tournament.¨ In the process, he will surely continue to perform as one of the best pitchers in the area.
About the Contributor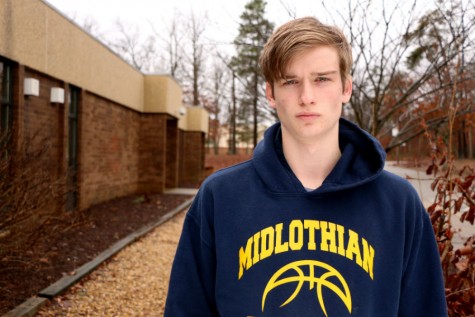 Lucas Via, Sports Editor
Lucas Via, Sports, Class of 2017