Merrill Livingston, Midlo Scoop Staff

December 4, 2017

Filed under Performing Arts
On November 20th, 2017, several Midlothian High school students traveled to Charlottesville High School to show their talent in the practicing orchestra. Jacob Cantor (viola) , Jason Hwang (cello) , Matthew Tignor (bassoon), and Brianna Cantrall (cello), auditioned on September 23, 2017, to gra...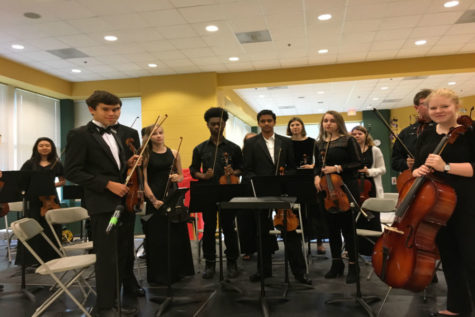 Merrill Livingston, Midlo Scoop Staff Writer

April 28, 2017

Filed under A & E
On Saturday April 22, 2017, Midlothian High School Orchestra ventured to Clover Hill High School for the annual CCPS Fine Arts Festival.  Mr. Justin Williams, Clover Hill High School's Orchestra teacher, asked the Trojan Orchestra to perform at the annual festival.  Students attending the CCPS Fine Ar...