Mastering the Art of Musicals
Behind the Scene of Midlo's Live Pit Orchestra During the Production of Fiddler on the Roof
Annually, the Spring musical graces Midlo High's theatre and dazzles excited audiences. As soon as any of the musicals start, music floods the auditorium, entertaining friends, family, and faculty, who curiously await the start of the show. Each year the musicals play a different tune, but the job of the hardworking musicians remains the same. Most of the time, the musicians, wedged in between props, behind the curtains, or at the back of the stage, tend to work hand-in-hand with the actors who remain at the center of the spotlight. Throughout the area, Midlo is one of the only musical productions that utilizes a live student-based ensemble. The 2018 Spring musical, Fiddler on the Roof, is no different.
Every Tuesday and Wednesday for two months, gleeful members of the Fiddler ensemble gathered in the orchestra room, led by Mr. Gordon Rawls. Practice time leading up to curtain call of the musical was crucial for the students to master their parts and dazzle the audience when the time came along. Mr. Rawls, who had worked with many of the live musical ensembles, explains that "it is interesting to see how the show comes together in the end." Jinwoo Kim had the chance to represent the music students by participating in a large part for the musical as the Fiddler.
As soon as "tech week" rolled around, when the stage actors rehearsed one-on-one with the musicians, all of the hard work paid off.  These live rehearsals made all the students realize how hard it would be for the musicians to be on rhythm with the actors at all times. For the pit orchestra, it was crucial to always watch Mr. Rawls, while at the same time counting, playing the music, and listening to the actors. Sophomore Jacob Cantor describes the process as "difficult at first, but when it all comes together," it allows him "to appreciate all the time spent practicing." With Fiddler on the Roof,  half of the orchestra is behind the prop barn wall, while the other half is backstage, so they needed to be constantly aware of their surrounding and how to work with the actors in the spotlight.
During all three shows of Fiddler, the audiences recognized the passion from the pit, even though they were not spotlighted on the stage. Mr. Rawls stated that Mrs. Katherine Baugher "loved when the students in the pit orchestra would turn their heads to watch the show," alerting her and Mr. Rawls that the students in the pit were serious about playing along with the actors. As the last show closed, the actors came over to thank the orchestra and band members for all their hard work supporting them while they acted. No musical is complete without the talented members of a band or an orchestra.
Leave a Comment
About the Contributor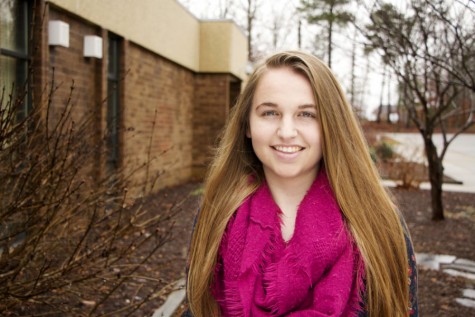 Merrill Livingston, Midlo Scoop Staff
Merrill Livingston, Class of 2018