Farewell to the Spotlight
On the evening of Saturday, May 27, 2017, Theater Partisans, cast, and crew gathered on the stage of Midlothian High School to celebrate another year of fun and frolic. The night started with inductees performing pieces of art conforming to the theme: Out Of This World.
The inductees then gathered on the floor below the couches, where the existing members lounged. Mrs. Katherine Baugher awarded the inductees with well-earned speeches of recognition and golden star diploma stickers, earned by taking part in enough shows and gaining points. Samantha Borero says, "Being inducted into Center Stage was an incredible experience and changed my perspective on the theatre program as a whole."
Afterward, she awarded stars to the other members who qualified before handing the spotlight over to the theater principles: Sean Dudley, Katie Murphy, Emily Peachee, Mikayla Grey, and Hannah Hodges, who announced Center Stage Superlatives, such as; most likely to eat in the theater, best hugger, mom and dad, most likely to strip a screw, Co-co-director, etc., as well as recognition for theater work done outside of Midlo.
A couple of hours flew by as each individual shared a laugh here and there. Everyone enjoyed the food with friends, sitting on the stage floor, taking time to remember and laugh. After dinner, Mrs. Baugher directed the group to move the couches behind the projector screen, as everyone settled into the auditorium seats to watch a beautiful documentary created by Britton Baltich of the creation of Les Miserables, the last show of the Midlothian Theater Productions Season.
A slide show followed, which reviewed all of the productions from the year the seniors were freshmen (2013-2014) through this year (2016-2017), and Butch Eudailey, the theater photographer, gifted each senior with his or her own copy of the video. The second Powerpoint revealed next season's shows and directors.
As a shocking twist, Midlothian Theater will perform two musicals instead of one next year. Leah Besser will direct the first, You're A Good Man Charlie Brown, and  Ella Morefield will direct the winter show, Imagining Shakespeare with a Baugher twist on it. The spring musical, directed by Dreya Fernandes, will be Fiddler on the Roof. The seniors rounded out the evening with final speeches that reflected on their years in the program before saying their final goodbyes.
Of the evening, sophomore James Davis says, "It's great to see all the inductees and to see the theater program grow. Center Stage Company is truly the social event of the season."
About the Contributor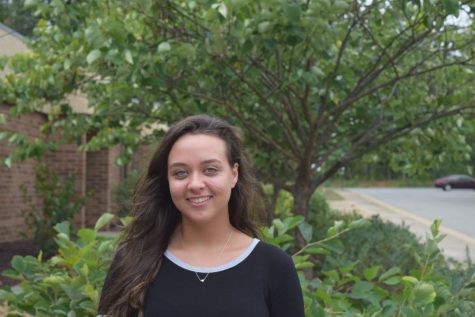 Dreya Fernandes, Staff Writer
Dreya Fernandes, Class of 2018