Learning Every Note, Rhythm, and Story
Behind The Scenes of the Hardworking Pit Orchestra in Les Misérables
As soon as the curtains open to any musical, the audience hears music but automatically searches for the actors. Most of the time, those behind the curtains, in between the props, or at the back of the stage, feel content to let the actors take the spotlight, but those behind the scenes of production, such as the musicians, allow the show to go on. Unlike many area high schools, Midlothian High School uses a live ensemble for their stage productions, including Les Misérables, which opened on May 11, 2017, allowing the production to fully come to life. 
Multiple times each week for two months leading up to the production, the students of the Les Misérables orchestra met with Mr. Gordon Rawls in the band room. It was important for the live band in the orchestra to be "heard and not seen," while playing to the best of their ability, says Mr. Rawls, who has worked behind the scenes with live bands and orchestras in many productions.
When live rehearsals with the Les Misérables actors began, students realized that making live music is much harder for the conductor, instrumentalists, and actors. Each time an actor sings, or a musician plays an instrument, they both have to be on rhythm with each other. For the pit orchestra, many different factors contributed to making a song successful, such as watching Mr. Rawls, counting their rests, and listening to the actors as well. Sophomore Paul Cline observes that at times it "was hard to keep up with the performers, but in the end, it gave audience members the chance to indulge more in the characters and in the musical itself". Those in the pit orchestra must keep their focus while playing for multiple hours to maintain the production's magical atmosphere.
During the Les Misérables run, each performance with the live band went well, allowing Mrs. Baugher to note that "it brings a real appeal to the performance, keeping the actors in touch with their singing".  Along with the actors, the pit orchestra applied themselves to every practice and every performance, wanting each sound that came out of their instruments to be perfect. Finishing the last performance, Mr. Rawls commented that he had the "best job in the world, coming to school every day getting the chance to make music with young people. I know it's stressful at times, hitting every note and rhythm, trying to match with the actors, but you all bring the piece together so well and have worked so hard these past few months".  As another show closed, the pit orchestra knew the praise was well deserved, knowing the show succeeded, in part, due to their efforts.
Leave a Comment
About the Contributor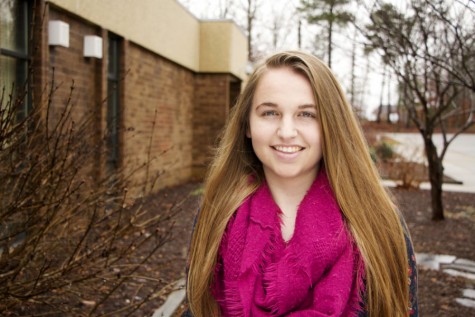 Merrill Livingston, Midlo Scoop Staff
Merrill Livingston, Class of 2018