Choral Students Shine Brightly
Night of Stars Fundraiser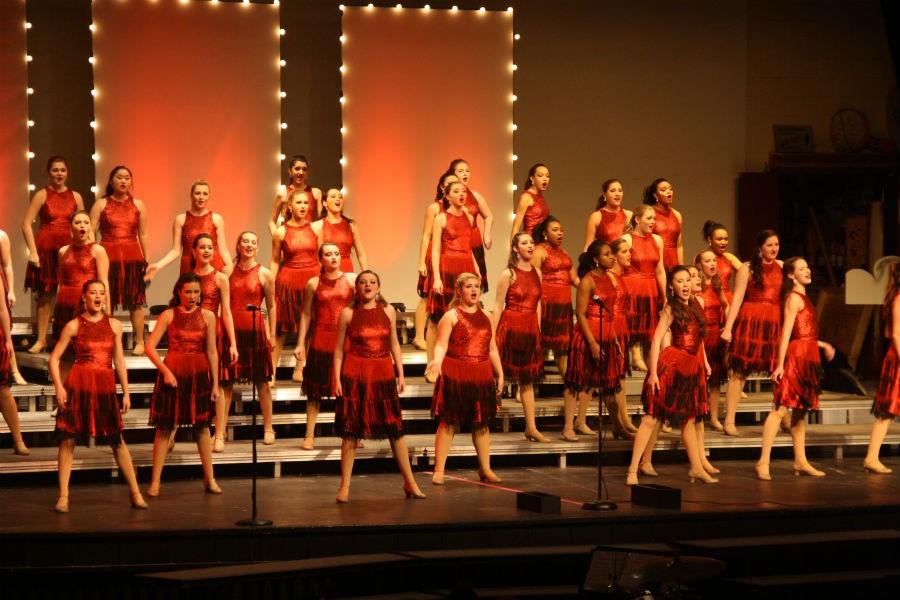 On Friday, February 19, 2016, Midlothian Chorus hosted its annual Night of Stars Scholarship Fundraiser. Midlothian choral groups, City Lights, Pitch Perfect, and Just For Show premiered their competition performances with a night filled with  cheer and delight. The performances were supported by the Show Choir Band, which showed off its enjoyment by dancing to the music with while playing. The night proved an overall success, rounding up donations from local businesses and sponsors. Midlothian Chorus donates proceeds from Night of Stars to provide college scholarships for choral students.
The night started with Midlo Choral Director Mrs. Michelle Graham sending her support for all her chorus students and thanking all in attendance. The members of City Lights took the stage first, wowing the audience with amazing choreography and beautiful singing voices. They sang four different songs, including  RED,  Steppin' to the Bad Side,  Let's Be Bad, and Fever Medley with Katie Murphy, Andrea Taylor, Megan O'Brien and Anna Luther providing solos in each. After their performances, the audience burst with applause. Next to perform was Pitch Perfect, Midlo's all-girl a capella group, under the direction of Anna Luther and Casey Berry, which sang You'll Be In My Heart and Same Old Love/Sorry Medley, with soloists Christina Ju and Bailey Blair. Their hard work showed in their wonderful voices and the audience's reaction.
This year, Midlothian Chorus hosted The Jubilation Choir, a group sponsored by Salisbury Presbyterian Church. These members from the senior adult community choir are age 55 and older. The Jubilation Choir and the Show Choirs of Midlothian High School came together to sing God Bless America, causing the crowd to erupt in song as well and sparking tears. Finally, Midlothian's Just For Show was the last to perform, singing Higher, Up the Ladder to the Roof, Flying Home, Locked Out of Heaven, and Your Love Has Lifted Me Higher, with solos by Bailey Blair and Andrea Taylor. Their performance lifted spirits in the auditorium and let the audience know just how hard all of the chorus groups have worked this year. After the concert, concert-goers celebrated with decadent treats donated by local food sponsors. Midlothian Chorus would like to thank everyone who came, those who donated, and all the sponsors who helped make this year amazing.