Singing Through the Summer
John El-Jor to Attend Radford University's Governor's School for the Performing Arts
Junior John El-Jor, well known for his superb vocals and energetic personality, has emerged as one of Midlo's shining stars in the Chorus Department over the past three years. From June 25th until July 22nd, he will attend Radford University's Governor's School for the Performing Arts and learn even more about his craft. El-Jor is the only student in Chesterfield County to be accepted into this extremely competitive program.
The audition process for the program proved long and challenging for El-Jor. Originally nominated by his choral teacher, Mrs. Graham, he then secured a recommendation from Mrs. Miller and filled out his application with a transcript attached. Soon after, he wrote an essay explaining why he wanted to attend the program. For his personal audition, he sang Funny by Alexander Oyen for his contemporary piece and Per La Gloria D'adorarvi for his classical vocal piece. After those performances, he sight-sang a piece, meaning he was given a random song to perform with no prior knowledge.
His audition went so well that he made it the interview portion of the process. Once El-Jor checked everything off the list for the application process, officials at the state level re-evaluated his audition one more time. All of his hard work and dedication paid off because his talent outshone everyone enough for him to receive his acceptance. El-Jor says he is "extremely honored to attend the Governor's School for the Performing Arts" since it is such "an amazing opportunity to learn from some of the best in the world and grow within my musical capabilities."
John El-Jor will perform a lead role in Midlo's musical production of Les Miserables in May and has a prominent part in the co-ed show choir group, Just for Show. In addition, he also serves as one of the leading figures for the boys a capella group, Rhythmic Drive.  As undoubtedly one of Midlo's strongest performers, he will continue to excel this summer at Radford's Governor's School.
About the Contributor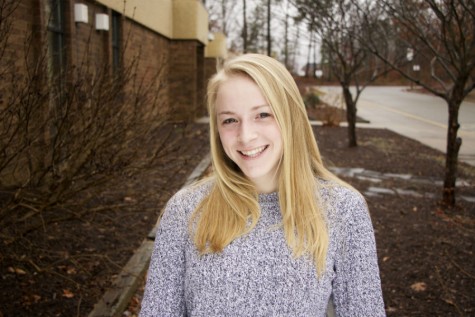 Emily Peachee, Midlo Scoop Staff
Emily Peachee, Class of 2017