The Man, The Myth, The Legend
Spotlight on Justin Elliott
In recent years, Midlothian High School has developed a name for itself in the Virginia Track and Field community. From high flying jumpers to speedy sprinters, Midlo has produced numerous collegiate athletes who have excelled on all levels of competition. Sometimes, however, the kids who benefit the most from running with head coach Stan Morgan are often hidden behind the scenes.
Justin Elliott, a sophomore at Midlothian High School, involves himself with activities in and around the Midlo community. As a 2nd year athlete on both Midlothian's Cross Country and Track & Field teams, he has shown significant improvements in his running abilities, competing in one of the most grueling events on the Track and Field circuit, the 3200 meters, also referred to as the 2 mile. Coach Stan Morgan often commends Justin for his toughness at practice and competing on the track. When asked what he loves about the sport, Justin responded, "The good part about running is releasing energy and getting in the zone with my game face on." This game face has allowed Justin to compete and workout with some of Midlothian's best long distance athletes, such as Court Warfield and Max Etka.
Justin, however, is unique in his own way. He runs fast and works extremely hard, all while having high-functioning autism. A common misconception of people with autism is that they have difficulty communicating with their peers and often can't easily interact with others socially. Justin, on the other hand, is far from this depiction. Justin is a socially adept, intelligent sophomore, who expresses his bubbly personality regularly with his classmates. When talking about autism, Justin described himself and others by saying, "We are not the same. Even us with high functioning autism have our strengths and weaknesses just like everyone else." Justin also stated that he keeps "a pretty tight routine," which aids him in working through his daily activities.
In his free time, Justin, just like any teenager, enjoys bowling, running, and playing video games, such as Call of Duty and Dragon Quest. He even complained about having to bowl six games one weekend, but secretly, it seemed as though he was looking forward to it.
Justin also has set some short term and long term goals for himself. He stated that he "hopes to run a two-mile under 11:00 minutes." With the hard work he has put in on the track, this goal is easily achievable. Justin also shows an interest in psychology, explaining: "I'd like to study psychology to help other people with their problems." Justin Elliott will surely continue to generously affect the lives of his peers with his kind-spirited, extraordinary personality, and he is an asset to the Midlothian High School community.
Learn more about Midlo's Autism Program by clicking HERE. (Video courtesy of Trojan Live Network)
Leave a Comment
About the Contributor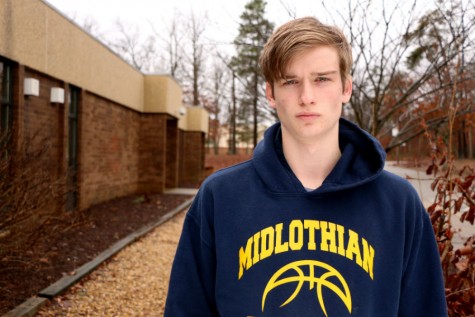 Lucas Via, Sports Editor
Lucas Via, Sports, Class of 2017