Midlo Track Club Takes on NYC
With the conclusion of the regular track season coming to a close at the 4A state meet, a few qualified Midlothian track athletes competed on a national stage with the Midlothian Track Club. On Thursday, March 9th, Midlo qualified six athletes to run in New York City at New Balance Nationals. This track meet allows some of the best athletes from across the nation to compete with one another in what can be considered one of the most renowned indoor track meets in the nation. From California to Maine, athletes vie for a chance to claim a national title or All-American honors in their respective events.
Entering the meet Friday morning came with some inclement weather, as a light snow began to fall across the city. This weather did not stop Midlothian from competing, as many of their athletes came ready to run. Juniors Ashlyn Ferguson and Addison Sanders, along with senior Madison Anderson and sophomore Erin Babashak, ran in the Emerging Elite SMR also know as the Sprint Medley Relay. These ladies finished an impressive 3rd in the final heat of competition. Babashak also competed in the Emerging Elite Triple Jump, placing 25th. With three of four athletes returning in the SMR, Midlo Track Club could very easily place even higher next year in this event.
On the boys' side, only two athletes met the qualification standards for Midlothian, as senior Josh Rominger qualified for both the 400m and 60 hurdles, while fellow senior Lucas Via qualified for the Emerging Elite High Jump. Rominger placed 28th in the 400m and 36th in the 60m hurdles. Via placed 21st in the high jump.
After the competition, the athletes toured the city, taking the subway from 165th into Midtown to see Times Square. With a thin, white canvas of snow still covering a good portion of the overhanging trees and sidewalks, it made for a unique and unforgettable New York experience. Senior Josh Rominger stated, "It was both my first time at Indoor Nationals and in New York City, so my experience, especially in Midtown, was one I won't soon forget."
With athletes such as Olympian Sydney McLaughlin competing, the stage was set for a unique and unforgettable experience for these Midlothian athletes. As the weekend came to a close, so did the official end of the indoor season. Now, Midlothian athletes look towards the outdoor season to break even more barriers on their way to more records and championships.
Leave a Comment
About the Contributor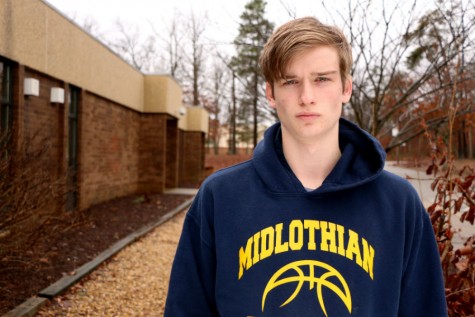 Lucas Via, Sports Editor
Lucas Via, Sports, Class of 2017