A Journey to the Wild West
The Man Who Shot Liberty Valance
On February 9, 2017,  Midlothian's Theater Department put on the winter production of The Man Who Shot Liberty Valance, co-directed by Mrs. Katherine Baugher and Emily Peachee. This production tells the story of tenderfoot Ransome Foster, powerfully portrayed by Sean Dudley, beaten and left for dead by a fierce cowboy. He is reluctantly saved by another cowboy, Bert Barricune, brilliantly portrayed by Garrett Redden. Barricune brings him into a saloon run by Hallie Jackson, played by Sophia Trout, and her good friend Jim Mosten, portrayed by Tabytha Coleman. Foster originally stays in town seeking revenge on his attacker, Liberty Valance, skillfully played by Michael Rowe. He eventually has a change of heart once he decides to teach Jim and Hallie how to read. Word spreads around the small town that Foster is teaching a black man to read, which leads Valance and his fearsome gang (Jake Feldpausch, Madison Chazo, and Dreya Fernandes) to come into the town to lynch Jim, while Ransome and Hallie are away enjoying a play. This scene left audiences with goosebumps because of the mysterious tone and strong performances by Tabytha Coleman and Michael Rowe.
Act 2 began with a bang after Hallie learns about the death of her friend. Foster then attempts to avenge Jim's death by going after Liberty. Throughout the second act, Bert and Ransome engage in a constant battle for Hallie's heart. Ransome comes out on top when Hallie says she will marry him if he leaves town instead of facing Liberty. Sadly, they run out of time because Valance returns to the small town before they can leave. The show ends with a plot twist when Barricune shoots Liberty from an outside window after Ransome is shot in the shoulder. In stunning performances. Dudley, Trout, Redden, Coleman, and Rowe left audiences craving more.
In addition to the talented acting, the set for the show also left a lasting impression on audiences. Mr. Ryan Gallagher guided the crew for the play. Junior Rebekah Adams designed the saloon, with expert lighting done by Eric Taylor and Noah Dorman. The Theater Department also had advanced makeup for the actors, masterfully done by Helen Trout, Eryn Marsh, and Hailey Bean. Overall, the cast and crew powerfully delivered The Man Who Shot Liberty Valance for Midlo audiences, building anticipation for the much anticipated spring musical, Les Miserables.
About the Contributor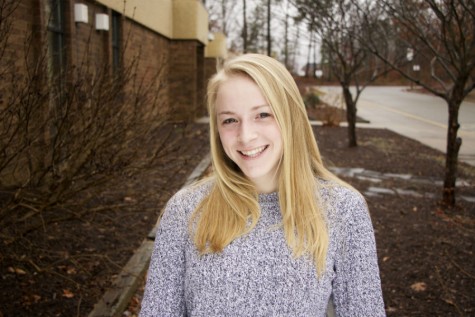 Emily Peachee, Midlo Scoop Staff
Emily Peachee, Class of 2017