Safety Pins: An Expression of Solidarity
Promoting School and National Unity
Hang on for a minute...we're trying to find some more stories you might like.
Throughout history, various groups have adopted symbols to show solidarity for a cause. After President Trump's Executive Order 13769, the safety pin reemerged as a symbol of support, compassion, and acceptance. Several members of Midlothian High School's diverse community, who are either directly affected or know someone who is, have started wearing the safety pin as a sign of inclusion.  From January 31st to February 10th, many students and faculty members will attach safety pins to their clothing to support the initiative. Mrs. Megan Rebman, the Muslim Student Association (MSA) sponsor, explains, " My goal with sponsoring this initiative is to show students in the Midlothian community that there are people in this community they can go to if they need help. Using these safety pins is a subtle, yet effective way to announce to students that they can go to other students or faculty members with any fears or worries they might have."
Midlothian High School senior Yusuf Goulamine offers, "Many members of the community in our mosque have family who live in the countries [affected by the ban]. One of my mother's closest friends is an elderly woman who, along with her husband, [is] trapped in Damascus. Due to bombings, they sometimes go days at a time with no water, no food, or electricity. They have family who live right here in our area, and I feel that people who either support this ban or are indifferent to it need to understand that it doesn't simply affect strangers halfway around the world; it affects their neighbors, classmates, and friends right here in their community."
In an effort to support those in need and make our community a safer, more inclusive place for everyone, MSA and World Religion and Tolerance Society have planned outreach projects in the form of the safety pin initiative and a collection drive for refugees, respectively. Seniors Mariha Junaid and Joshua Pace will have safety pins on hand during the initiative; the pins also are available in the library, the counseling office, and the main office. According to Pace, "The safety pin stands for unity within the school, and it shows that we all stand together as a student body."
Midlothian's Community of Excellence prides itself on offering support to those in need, and many students are embracing this opportunity for inclusion.  Vice Principal Robert Gifford notes, "Symbolic acts of solidarity done appropriately in school are highly valued and appreciated, with proper foresight and planning. These acts help promote awareness to issues, groups, and individuals who need to have a voice, so the act of wearing a safety pin to promote a specific group of individuals, when done appropriately, can have many positive effects in a learning environment."
Update: On the afternoon of February 4, 2017, the State Department reversed the prior visa cancellations after a federal judge blocked the executive order on immigration.
About the Writer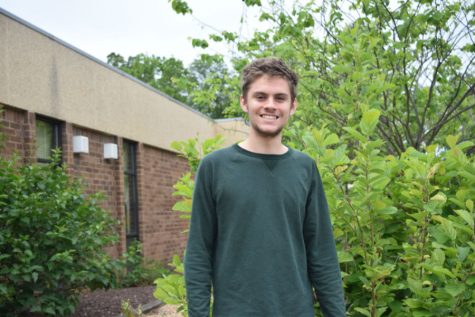 Michael DeMatteo, Marketing Editor
Michael DeMatteo, Class of 2017