Greene Shines Again
Midlo's Medford Basketball Team
Through the first 3 weeks of the season, Midlothian's Medford team has impressed, beating two talented area teams in Monacan and Clover Hill. This week, however, the Trojan Medford team hit its first road block. The Meadowbrook Monarchs came into the auxiliary gym on January 19th ready to play.
They started with a frantic pace, as Davonte Strauss led the Monarchs with some steals early in the game. His fellow teammate Jada Scott also led the charge on the defensive end, racking up numerous steals. Midlothian's big men, Geoffrey Baskerville and Joshua Burkes, led the Midlothian charge, as the nearly 6'5 athletes scored basket after basket for the Trojans.
As the halftime buzzer sounded, Midlothian trailed by double digits. However, an early spark from Gabe Greene led a comeback for the Trojans. Unfortunately, the comeback was short lived. Meadowbrook's Davonte Stauss hit a shot from half court that made fans from both squads stand up and applaud. Greene continued to take the ball down and force layups.
One Meadowbrook athlete, Chris Worsham,stood out on the court. While he may not have scored, his shoes captured the attention of everyone in attendance. His light up shoes changed from orange to blue as he jogged up and down the floor. Senior Tyler Gregory commented, "He was by far the most stylish player out there."
The game concluded, and Meadowbrook handed Midlothian's Medford team their first loss by eight points. An undefeated season may no longer be possible, but these athletes look to rebound on Thursday, January 26th, for their match-up against the James River Rapids.
About the Writer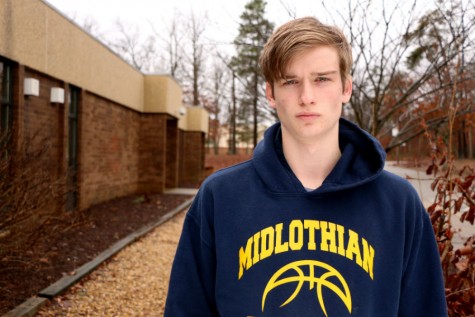 Lucas Via, Sports Editor
Lucas Via, Sports, Class of 2017