Midlothian Loses Close Game to Rival James River
Turnovers and Missed Shots Stump Trojans
Through the last decade at Midlothian High School, students have graduated, teachers have retired, and administrators have shifted; however, one thing has remained the same: Midlo and James River share a fierce rivalry. Each year, arguably the biggest rivalry for the Trojans is when they face off against the Rapids. On January 13th, Midlothian's Boys Basketball team traveled out to "The Swamp" to face the Rapids in their first match-up of the year.
James River's squad consists of a young lineup, as three of their five starters are sophomores. Fellow sophomore Will Pomeroy started for the Trojans, along with seniors Rico Coleman, Eric Picucci and Lucas Via. Justin Penn rounded out the starters for Midlothian.
The game began at a frantic pace, as Logan Norton and the Rapids knocked down some early three-pointers. Midlothian answered, and when the buzzer sounded to end the first quarter, Midlothian trailed by 4. Slowly towards halftime, Midlothian lost control of the ball with numerous turnovers in the 2nd quarter, leading to a larger 8 point deficit.
As the clock wound down, Midlothian still trailed, ending the game with a 64-54 loss to a tough, young Rapids squad. Leading scorers for the Trojans included: seniors Lucas Via and Rico Coleman with 21 and 10 points respectively.
Midlothian now looks ahead at a tough week of basketball, as they face arguably the best team in the state in L.C. Bird, along with George Wythe and Monacan. Head Coach David Brohl preaches toughness and patience to his players, and they will need plenty of that with the challenges they will soon face on the basketball court.
About the Writer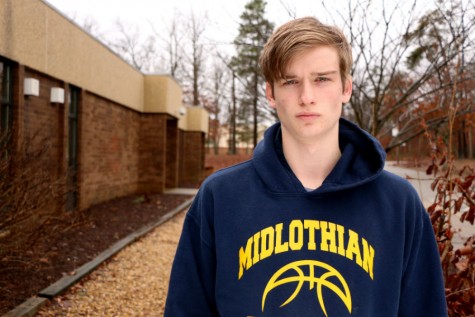 Lucas Via, Sports Editor
Lucas Via, Sports, Class of 2017