A Chance to Shine
Danielle El-Jor Sings with Garth Brooks at the Richmond Coliseum
A once in a lifetime experience arose for Danielle El-Jor  when her roommate Amanda Boots entered her into the Prizefighter Contest for the radio station K95. The contest was named Prizefighter after the new Trisha Yearwood song about her mom's battle with cancer. As part of the nomination process, Amanda was supposed to tell the radio station about someone who inspires her and has fought through their own battle. Naturally, Amanda wrote about her friend Danielle, who was battling stage 3 Hodgkin's Lymphoma. K95 informed ecstatic friends Danielle and Amanda that they had won the meet and greet with Garth Brooks and Trisha Yearwood. 
Danielle and Amanda went to the meet and greet, excited to spend time with their musical idols, Garth and Trisha. During their time together, Trisha and Garth asked Danielle what her dream was, and she told them it was to be a singer. Almost immediately, both musical superstars invited her to come sing with them for their soundcheck before the Sunday concert, asking her to bring her whole family to watch.
Danielle and the El-Jor family ventured to the Richmond Coliseum on Sunday, November 13. During the soundcheck, Garth and Trisha asked Danielle to come up on the stage and sing Trisha Yearwood's song, How Do I Live Without You. Everyone's jaw dropped in the room as soon as she started singing. "They didn't expect her to be able to sing so well," said her brother, Midlo junior John El-Jor. Garth Brooks then asked her if she knew the song I Told You So by Carrie Underwood, featuring Randy Travis, and if she did, he wanted her to sing it. She impressed Garth so much that he asked her if she would like to sing that song with him at his concert, and of course, she agreed.
During the concert, Danielle and Garth knocked it out of the park, they sounded amazing together. The youtube video of Garth and Danielle's performance has become a Facebook sensation. This opportunity has opened many door for Danielle, including calls Nashville, LA, and Washington. Danielle plans to go to Nashville soon to meet again with Trisha, Garth, and their manager to discuss further plans.
Danielle El-Jor, a Midlothian High alumnus and a true inspiration to all, is chasing her dream, and we can't wait to see what happens next.
About the Contributor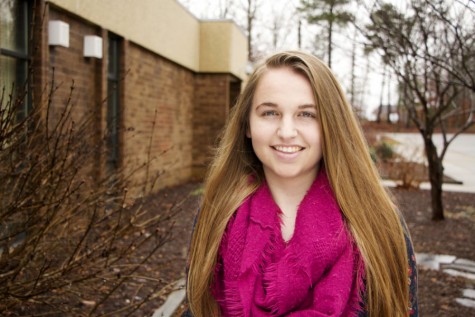 Merrill Livingston, Midlo Scoop Staff
Merrill Livingston, Class of 2018