Midlo's Teacher of the Year Award goes to Murfee
2021-2022 Teacher of the Year: Ms. Heather Murfee
While both students and teachers alike have navigated fully returning to school in-person, Midlo's head librarian Ms. Heather Murfee has represented a guiding light for many, which led her to receive the award of Teacher of the Year for the 2021-2022 school year. The award recognizes teachers who have gone above and beyond for their community, a trait Murfee continues to display each and every day. Murfee understands the individual needs for a student and never fails to encourage students to capitalize on their talents and abilities.
After earning a bachelors degree in english from Virginia Commonwealth University, Murfee initially switched her career to computer infrastructure. However, due to her literary passion, she eventually soon earned a masters in library media from Longwood University and went on to began her work in middle school libraries. Murfee is now entering her fourth year at Midlo and her  tenth year working with students as a whole. She currently serves as the school's head librarian, as well as the sponsor for yoga club.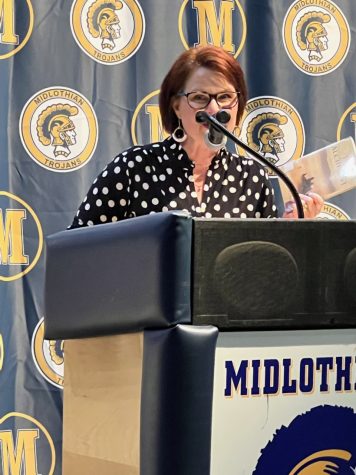 "The Midlothian High School Library equips student to positively contribute to out diverse world by inclusive literature, encouraging independent thinking and bringing awareness to global traditions, ideas and experiences." – Ms Murfee said
---
What were your initial thoughts when receiving this award / what does it mean to you?
When I first learned that I received this award, it was in a room with previous Midlo Teachers of the Year, ones I admire so much such as Ms. Warriner, Ms. Petersen, Mr. Wilson, Mr. Parker, Ms. Williams and Mr. Sharobim. I was stunned!  Having a positive impact on students and other staff members is my goal every day, and to learn that I achieve that goal is reward enough. Reading and hearing the positive comments my colleagues shared, however, melted my heart.
What is your favorite part about educating students?
My favorite part of educating students is everything! I strive to learn *most* students by name, learn a little about their likes and dislikes so that when I am working with students in their classrooms and content area, I am better able to connect with them. I love infusing fun and bad puns into my lessons so that students know I am approachable. I take great pride in the fact that the library truly supports every single person in this school. 
Who has helped you get through his school year?
Teaching and working in the library is such a team effort. I could not do anything without my library squad, Mrs. Evans and Ms. Cequeria! Each day is wildly different from any other day, and working so closely together allows us to practically read each other's minds. I would also like to recognize the teachers who utilize the library in its fullest capacity; collaboratively creating lessons, being open-minded and infusing creativity into the work they do with students. I get my energy when I work directly with students, teachers and their lesson plans.
What is one random skill you have come to acquire while working as a teacher?
I have an uncanny ability to make SpongeBob SquarePants references to most situations.
How challenging has it been to teach during a pandemic?
I really worried how COVID-19 was going to impact students' reading interests. Reading, as a recreational pastime, was already competing with the vast number of options that keep students busy, so I expected that there would be a dip in the number of books that students checked out from the library. I have been thrilled, however, that students who already considered themselves a reader continued to do so and many students rediscovered the joy of reading.
If there was one defining moment during this year that you will never forget, what would that be and why?
The one defining moment came from my role as Speech & Debate coach. A Congress student, talented and brilliant yet who feared public speaking, gave me (and his fellow teammates) a heartfelt thanks for providing the opportunity, support and encouragement necessary to qualify for states in his first year participating. Since it was also my first year as coach, it meant so much that we accomplished this together.
Leave a Comment
About the Contributor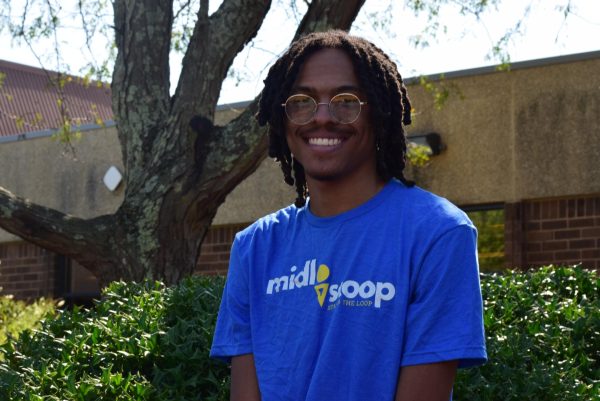 Huntur Brockenbrough, Sports Editor
Class of 2024

Huntur Brockenbrough has been on staff for three years and is a sports writer this year. Outside of school, he enjoys watching sports/tv,...