Marching to the Beat
Middle School Band Night 2016
The Midlothian High School Band program currently has an enrollment of about 145 members, the largest group since 2008. Each year, more and more freshman pour into the music program, and it takes a special occasion to open the flood gates. Middle School Band is that perfect occasion to make middle schoolers feel like one of the "big kids" and maybe even bring high schoolers back in time a few years.  
The Marching Band consists of two sections, divided by instrumentation. Each section has a different leader, a different style, and an overall different mindset. By the end of the marching band season, the sections really become like a family. The middle schoolers witnessed this bond as soon as they walked through the doors. Quickly, it changed from "middle schoolers" and "high schoolers" to all part of a section.
Festivities began at around 4:30 pm. The marching band section leaders greeted the middle schoolers. Woodwinds, brass, and percussion have their own rooms to learn the stands tunes that everyone can hear blaring at the football games. Walking into the brass room, at first, was like being hit in the face by a wave of noise and intonation, but they quickly got their act together. Before the Trojan Marching Band suited up in their uniforms, they joined the middle schoolers for delicious Candela's pizza.
Fitting over 150 kids and instruments in a small section of the bleachers is not an easy task; however, despite the close quarters everyone had a great time. As a fun surprise to add to the excitement, the football team came out with the win. All in all, the night proved a huge success. Paul Covert, Junior Drum Major said, "It was a frantic display of how we get things done."
About the Writer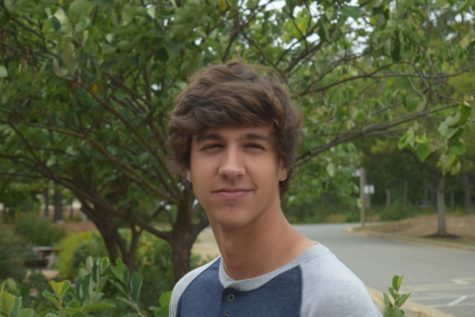 Jake Petrillo, Staff Writer
Jake Petrillo, Class of 2018