Midlo welcomes new economics and history teachers
Midlothian High School welcomed both a new economics and history teacher into the building for the 2021-22 school year. The new additions to the Midlo community include: Ms. Madisen Powell and Mr. Robert Garza. 
---
From her major in history and her minor in education, Ms. Madisen Powell brings a new perspective on teaching history and economics. Powell is a second-year economics teacher, but this is her first year in the classroom due to the virtual learning setting last year.  She loves teaching economics, and has a great passion for history.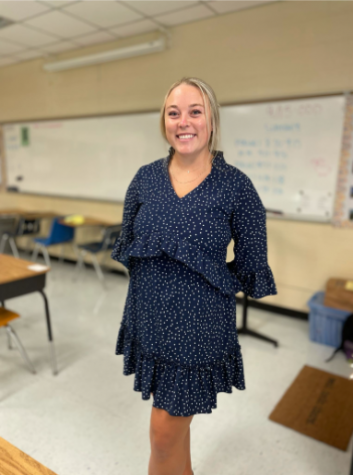 On her way to becoming a teacher, Powell first attended Bridgewater College, however the small setting just didn't fit her, so she transferred to Virginia Tech. Realizing she missed playing soccer, Powell eventually graduated from Randolph-Macon. 
"I really enjoy how people think history is a set of dates, names, and places that you need to memorize when instead it's ever-changing and ever-evolving based on new evidence, and how you interpret evidence," Powell said.
On her bucket list, Powell wants to visit Europe and indulge herself in the rich history overseas. "My goal is to go to Europe one day. I want to travel around Europe because I'm a history geek and all I want to do is touch the cobblestones of Rome and be like, 'Julius Caesar stood here!' " Powell said.
Outside of school, Powell loves to play soccer, hang out with her friends and family and go to the beach. While the beach is her favorite travel destination, she still hopes one day to satisfy her history-loving side with a trip to Europe. Powell also hopes to change the experience of teaching her students, by making it more focused on the changing interpretation of evidence as opposed to memorizing names and dates
---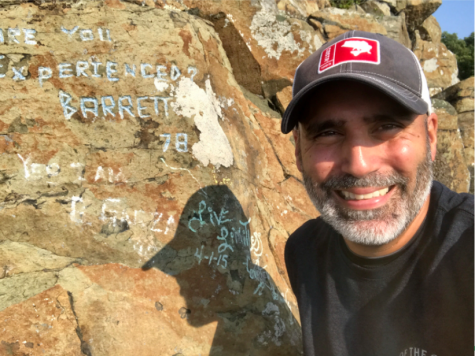 Since earning his bachelor's degree at George Mason and his masters at Liberty University, Garza had his heart set out to be a history teacher. And so, for the past sixteen years, history teacher Mr. Robert Garza has shown up to school every morning ready to teach.
Garza's dying passion for history was originally sparked by a vintage photo that was hanging in his house throughout his childhood. The picture displays an old wagon in Dumfries, Virginia as it treks through the ground blanketed in mud and snow.
"It was an old black and white photo that got me into history," Garza said. "I'm always wondering, who are they? What were they doing back then? What were they thinking back then, what they thought our lives would be like and so I've always been drawn to those photos."
In his spare time, Garza can be caught curled up with a book or may likely be out in the wild, hiking through nature. "I'd love to sit down and just have a really good book in front of me. What I've done before was on my hike I'll get to the top of the mountain and then I'll just sit on top of the mountain and read."
Garza has made several trips to Humpback Mountain, a mountain near Wintergreen Park, where he celebrates his hike by etching his name on the same rock each time he reaches the top. It all started when he discovered a carved note on a trail guide from 1878 saying "Are you experienced?"  His quick-thinking mind scratched into the rock face Yes, I am.
Besides teaching at Midlo, Garza coaches soccer for FC Richmond and loves long hikes with his family. The best piece of advice Garza has ever heard is "There's nothing wrong with chasing dreams because you just might catch one." 
Welcome to Midlo, Ms. Powell and Mr. Garza!
Leave a Comment