January Students of the Month awarded to Carson and Jennings
Midlo's January Students of the Month 2021: Mary Carson & Ashley Jennings
Each month, faculty and staff work to recognize those who go above and beyond in representing the core values of the Midlo community. With the start of the second semester remaining virtual, two students, in particular, stood out despite the difficulties that accompany this type of learning environment. Both Mary Carson and Ashley Jennings received the award of January Students of the Month for their continuous commitments in achieving success and by exhibiting a great deal of accountability, all the while maintaining a positive attitude. 
By demonstrating to her teachers a strong interest in learning, organizational skills, and immense attention to detail, sophomore Mary Carson represents a highly dedicated student. Throughout her time in the IB Program, Carson has never failed to continuously work hard in all areas of study by maintaining a balanced schedule. Thus, for her, receiving the Student of the Month award symbolizes "recognition for all of the effort [she] puts into the classes and assignments." On multiple occasions, she has proven her capacity to persevere and navigate any challenge thrown her way in a virtual world. Although staying motivated while learning through GoogleMeet has been a difficult feat, she has found that "deadlines are certainly a good motivator, so sometimes [she] sets personal deadlines to keep [herself] on track while studying." She prides herself on her ability to not procrastinate and always makes sure to start each assignment on the day that it is given. "I attribute my academic success to my work ethic, which Mr. James Wilson has helped me develop," Carson said. However, not only does she stand out in regards to the quality of her coursework, but her classmates and teachers have witnessed firsthand how her insightful contributions during class discussions play a vital role in contributing to an engaging atmosphere for all.
For junior Ashley Jennings, she is known to most as a constant bright light and a warm smile in all types of situations. As an extremely personable individual, Jennings quickly found ways to adapt to online learning so that she could continue fostering meaningful connections between both her teachers and peers. Over the years, she has "learned the value of community in school", prompting her to engage in various clubs and activities, such as band, student council, German Club, and Champion's Club, all of which allows the well-rounded student to get to know the people around her better. Jennings strives to develop connections in any way possible. "Seeing others and doing fun activities with them, even from home, keeps my energy up and makes me want to be better. It's the most prime source of motivation right now!" Jennings said. This year, in particular, the two teachers who have impacted her success the most are Mrs. Jennifer Krievs and Mrs. Blair Abrahamson as they "constantly check in on each of their students and put in a lot of effort to ensure that they are keeping up and staying engaged." Despite all of the challenges presented throughout this school year, Jennings has consistently emerged as a leader, given the fact that she is always willing to engage in class discussions, which undoubtedly sets an example for her peers.
Congratulations, Mary and Ashley!
About the Contributor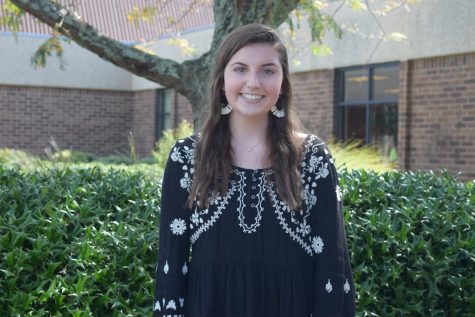 Bridget Tracy, Copy Editor
Bridget Tracy, Copy Editor, Class of 2022