Keep Calm and Love Theatre
2016-2017 Midlothian Theatre Department Productions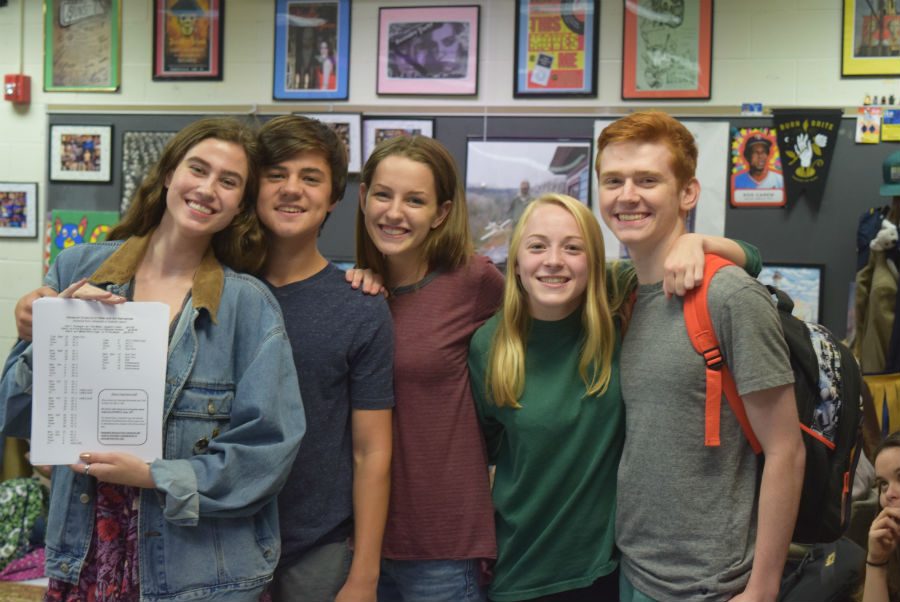 The doors creak open, and the frigid air smooths against the skin of the nervous thespians. They walk into an atmosphere of people moving with a certain urgency, with a purpose. Actors and actresses take a number, scripts, and an information sheet and sit in one of the blue-plush chairs, as they stare onto the stage, anxiously waiting for their number to be called. Auditions always prove tense at Midlothian High School; however, each student can breathe more easily after receiving the full support by the Midlothian Theatre Department heads, Mr. Ryan Gallagher and Mrs. Katherine Baugher. Mr. Gallagher's inspirational crayon speech helps to calm the nerves of the auditionees: "It would be ridiculous to blame that one crayon for its lack of use on this one coloring page," he says in an animated fashion. In order to truly understand the lesson to this story, students will have to audition for the next play.
Senior Sophia Trout takes the helm as student director for Peter and the Starcatcher, Midlo's first production of the school year, which will go on November 17-19. Peter and the Starcatcher follows the story of Peter Pan "before Peter was Pan, and the captain before he needed the Hook." Junior Bryan Davies wowed Gallagher and Baugher, earning the lead as Boy/Peter for his first audition. He says, "I have always loved the Theatre Department since the first day I walked through the doors of the auditorium. I feel so honored to play such a big role in a fantastic play as my first role ever. It just goes to show how much faith Mrs. Baugher has in me as someone with such little experience." Sophomore Eryn Marsh prepares for her first lead playing Molly, mother of Wendy, in the sequel. Sophomore Nicole Green says, "I watched the call-backs, and I really liked how the actors portrayed all the characters, so I'm really excited to see how it all turns out."
The next three plays: The Man Who Shot Liberty Valance, 21 Chump Street, and Les Miserables follow Peter and the Starcatcher in Midlothian's Theatre season to complete a full year of excitement. The thought of doing four plays in one school year might shock many students and other schools; however, Mrs. Baugher and Mr. Gallagher never worry about taking on this amount of hard work and dedication because they believe in each and every cast member. Joy Li exclaims, "The plays here are always so exquisite," and Milleena McNeil adds, "I'm looking forward to watching Peter and the Starcatcher."
Senior Emily Peachee will direct the second play, The Man Who Shot Liberty Valance, from February 9-11. After asking Emily how it feels to have Mr. Baugher and Mr. Gallagher ask her to co-direct a play, she responds, "It's a prestigious honor to be asked because it is not something all people get the chance to do." She feels excited to begin directing after waiting all summer, "Obviously, I'm exciting for it to be so close to my play, but I am ready for Peter and the Starcatcher because it is my last play that I will act in for my senior year." The Man Who Shot Liberty Valance creates an anxious aura in the theatre from start to finish. Ransom Foster from New York City travels west, Bert Barricune later finds him in the middle of nowhere, beaten, almost dead. Foster brings him back to a town called Twotrees, and Hallie Jackson revives Foster. After being questioned, and for the most part, unable to answer, they come to the conclusion that Liberty Valance left him lying there in the middle of the desert. Liberty Valance, described as a vicious outlaw who attacks people for little to no reason, gives Foster another reason, other than the love for Hallie, to stay and help Twotrees.
Senior Mikaela Gray, student director for 21 Chump Street, which debuts January 27,  says, "I'm looking forward to our touring. For this play, we'll go perform at local middle schools. I'm excited for this project because we spread our message and receive a multitude of the reactions. It is going to be a fun production!" In 21 Chump Street, a high school student falls in love with a female undercover cop, who arrests him for selling her drugs in an attempt to impress her. This production is a fourteen minute spin-off of the popular movie and television show, 21 Jump Street, with some music and hip-hop/R&B numbers throughout the play.
Last but certainly not least, the Theatre Department will produce Les Miserables, May 11-13, with senior Sean Dudley student-directing. As someone who has always held a great deal of passion for the theatre and performing, Sean has a hard time containing his excitement to see his creation, as most Midlothian High School students are. The show follows Jean Valjean, or 24601,  as he breaks free from brutal inspector Javert and is continuously running from him. Valjean meets a working class girl who turns to adultery in order to pay the innkeeper and his wife to take care of her child, Cosette. After meeting her, he offers to take care of Cosette, which later turns into a love triangle between Cosette, Marius, and Eponine. Juniors Katie Daniluk and Nick Yglesias both reacted with excitement when they realized the school had chosen Les Miserables as the musical for this year. Midlothian High School immensely cares about its Theatre Department, and many show their emotion with pride when talking about it.
About the Contributor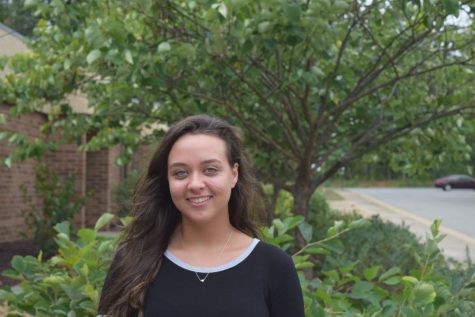 Dreya Fernandes, Staff Writer
Dreya Fernandes, Class of 2018