Gregory and Smith named November and December Students of the Month
November & December Students of the Month 2021: Emma Gregory and Jovontae Smith
The faculty and staff of Midlothian High School take pride in nominating two outstanding students each month who represent the core values of the community. As for the months of both November and December, Emma Grace Gregory and Jovontae Smith received the honorable achievement for their positive attitudes and continuous class participation, despite the challenges accompanying virtual learning. Both have demonstrated great resilience and commitment in their schoolwork, all the while attributing to an uplifting environment for their classmates and teachers alike.
A new student to Midlo who always comes to class well prepared with her camera on ready for discussion, freshman Emma Grace Gregory represents a constant friendly face to all around her. Although surprised by the award, Gregory has come to view it as validation because "it means [she] is becoming not only the student, but the person that [she] wants to be!" Through well-developed study habits, determination in completing her schoolwork to its fullest potential, and utilizing good communication skills with both her classmates and teachers each and every day, she has found success in the remote learning environment. As for the teacher who has left the greatest mark on her career at Midlo thus far, "My math teacher Mr. Finn has been really great in leading me to do very well in geometry, a class I initially expected to struggle a bit in," Gregory said, giving evidence to her growth mindset.
As for senior Jovontae Smith, his ability to balance both his course load and conditioning for the upcoming football season has not gone unnoticed by his teammates, fellow peers and teachers. In reaction to receiving the award, Smith felt "shocked and confused, but it made [him] feel that all of [his] hard work was worth it." Having earned straight A's during the first nine weeks of the school year, he credits both Ms. Emily Pfund and Ms. Callie Nunnally as the teachers who have impacted him the most throughout his time at Midlo. "They have been there for me and helped me with everything that I have come to them with. Both of them have made me believe in myself more than I ever have before," Smith said. By making sure he always completes all of his homework, classwork, and studying each night for upcoming tests, Smith has dedicated himself to achieving success in any way that he can. However, beyond his efforts on assignments, Smith never fails to show up to each of his classes with a warm smile on his face to brighten the day.
Congratulations, Emma Grace and Jovontae!
About the Writer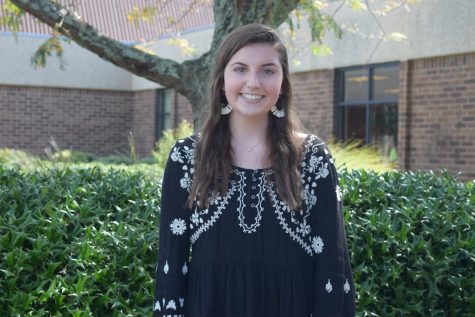 Bridget Tracy, Copy Editor
Bridget Tracy, Copy Editor, Class of 2022