Tabor jigs at Crossroads Irish Dance
Sophomore Kate Tabor always put her best foot forward in her dances when she began at age three, but it didn't turn into her passion until she turned eleven when she took a preliminary class for Irish dancing. Tabor loved the class so much that she set out to find a new studio that focused entirely on Irish dancing, eventually settling at Crossroads Irish Dance. 
While Tabor specializes in Irish dancing, she also has experience in ballet, jazz, contemporary and tap. Her favorite part of dancing is the ability she has to make music with her feet. "I'm extremely influenced by and infatuated with music, and it's amazing getting to learn different ways to create it."
When the pandemic hit, Tabor grew worried, wondering if her studio would manage to stay open. Fortunately, the studio is small enough that the dancers can still come to practice. For safety measures, the studio requires all dancers to wear masks full-time and have placed marks on the floor that indicate where the dancers stand during the classes. 
Irish dancing requires a lot of practice. "There's so much that goes unnoticed in a performance that has been continuously perfected behind the walls of the studio," Tabor said. For Tabor, Tuesdays, Wednesdays and Thursdays are filled by working to perfect her Irish dance routines at Crossroads. Additionally, Tabor assists the studio by teaching classes on Wednesdays. When she is not at the studio, Tabor practices Irish dancing in her garage any chance she can get. She is always on the lookout for ways she can improve in her routines and how she can help the other dancers at her studio.
About the Writer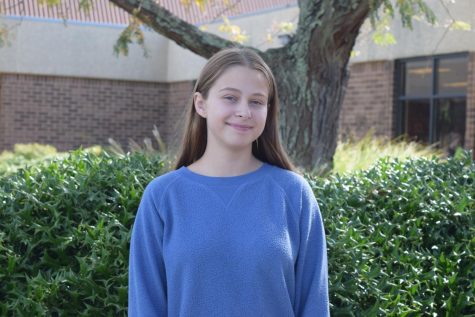 Ava Gay, Midlo Scoop Staff