Glover finds a passion in working on cars
Spotlight on: senior Michael Glover
Throughout the school, Midlo students pursue different interests. Senior Michael Glover spends much of his free time working on cars, as he currently works at Valvoline, a local mechanic shop.  He also fixes his own car when needed, which has led him to develop hopes of continuing his work with cars in his career beyond high school.
Before Glover started driving, he "thought cars were pretty boring," but he now holds an opposing opinion. His interest began when he got his first car. Instead of paying someone to do its 90,000 mile service, he gathered his resources and tools to do the work himself. Using YouTube videos for reference, he learned how to change the timing belt, do a tire rotation, change the oil, and change the transmission fluid. All of this work took him a total of twelve hours and "made [him] feel good and see it as a career." After the experience, he fell in love with working on cars and continues to take pleasure in it because he "likes working with [his] hands," so he continues to do all the maintenance on his own personal car.
Glover's work also spans to projects on his grandmother's car and one of his friend's car as well. His proudest achievement to date stands at his grandmother's car, which proved as a satisfying finish after completion. In this project, he replaced the ignition coil after he "took out all of the intake because the car has a V6 engine." As for his friend's vehicle, Glover enjoyed helping him do a simple oil change to show that working on cars, although it may seem intimidating, is a task not all too difficult for those his age. 
As for Glover's job at Valvoline, it mostly involves conducting oil changes. He works with Midlo senior Matthew Gilbert, along with other experienced employees. Most of his weekends consists of working, including Fridays and some Thursdays, when the company needs extra help. Glover describes the work environment as "high paced" due to "lots of cars all at once." The job requires good communication and allows him to get his hands dirty while also having fun when doing so.
Glover also takes part in the Midlothian IB Program, where he has to earn creativity, action, and service hours. To earn his creativity hours, he has involved himself in Midlo's all male a capella group, Rhythmic Drive, an after school program he has participated in since his freshman year.  He also has completed action hours through his participation in his neighborhood summer swim team. By helping when needed, he earns service hours by volunteering at Breathmatters, a non-profit organization founded by his grandfather that acts as a support group for people battling Lung Disease. Glover feels grateful to represent Midlo's IB program for the rigor that prepares him for college classes, as well as managing his time working on cars and having the opportunity to go to Midlothian High School.
About the Writer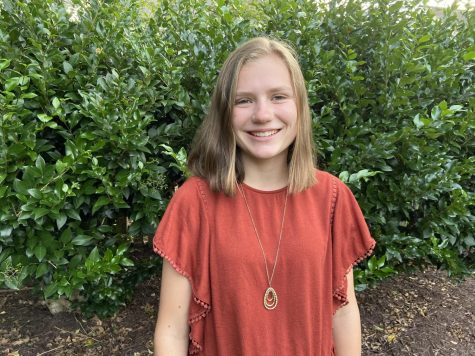 Nicole Quiram, Midlo Scoop Staff
Nicole Quiram, Class of 2022