Gillespie joins Midlo Art Department
Spotlight on: Ms. Mackenzie Gillespie
 The Midlothian High community grows exponentially each year, welcoming hundreds of new students,as well as several new teachers. Midlo welcomes Ms. Mackenzie Gillespie to the Art Department. Gillespie graduated from Virginia Commonwealth University in May of 2020, where she majored in Art Education. During her adolescent years, Gillespie coached cheerleading, which allowed her to shape young minds, so that they could learn and grow. She states, "I had so much fun teaching that I figured it was something I should pursue as a career, and I loved art, so it was a match made for me".
What is your favorite piece of art?
My favorite piece of art changes often – currently, it is the Rumors of War statue by Kehinde Wiley, which is on display outside of the VMFA.
What is your favorite piece of art you have created?
My favorite piece that I created is a linocut print of a snake wrapped around a bouquet.
If you could shadow any famous artist, who would it be any why?
If I could shadow a famous artist, I would love to work under Lucy Sparrow. She is a newly popular textile artist that recreates common items out of felt in mass quantities, and then fills entire stores with her work and sells them as if they were the product they're replicating. She seems very cool, and her creative process is very original, so working under her would be a fun and new experience.
If you could be any animal what would be and why?
If I could be any animal, I would be a bat. I think I have a kind-of dark/spooky vibe sometimes, and I am better at staying awake at night than I am at waking up in the morning.
What is one thing no one would ever guess about you?
I drive a retired SweetFrog car.. which is neon pink and green. My personal style doesn't match at all, but she is a good car, so I keep her around.
About the Writer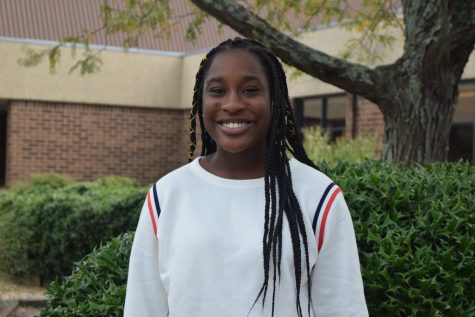 Zinzi Symister, Copy Editor
Zinzi Symister, Copy Editor, Class of 2021