Ellick and her dog appear on the Today Show
Spotlight on: Ms. Lillian Ellick
When Ms. Lillian Ellick entered her dog, Max, in the Today Show's "Best In Show" contest, she didn't expect that Max would soon appear on the popular morning newscast. The week before the contest took place, Ellick found out that Max was one of 1,200 applicants accepted as a finalist. On Wednesday, February 19, 2020, Ellick and Max starred on the Today Show with five other dogs and their handlers.
Max loves to dress up, and his closet houses numerous bandannas, hiking clothes, rainy weather attire, cold weather gear, and a even a Radford jersey. Max joined Ellick's family during her final year of college because it "was the best time since [she] had the time to walk him every day and spend a lot of time raising him. Now, [she] has less time since [she] works quite a bit." Max's name stems from the Ellick family tradition of giving pets names that have Christmas ties. When picking the name "Max," she thought of Goofy's son from Mickey and Friends, but the name also relates to Max the Dog from The Grinch.
On the Today Show, the hosts judged the dogs based on special tricks, companionship, and cuteness levels. Ellick explains, "Max is more of a free spirit, but he does know how to come, sit, and shake." Because of the isolating travel, Max, a social dog, was so excited to see other dogs that all he could focus on was his furry friends. Max's restlessness made Ellick nervous, but she felt calm that the Today Show crew was very clear about what was going to happen on the show. While in New York City, Ellick and Max walked around Times Square, adventuring together in the Big Apple. While Max did not win the contest, Ellick and Max undoubtedly had a wonderful experience in New York City.
About the Writer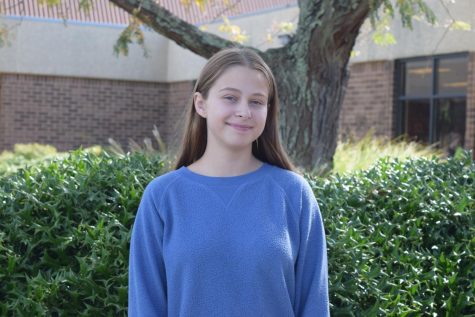 Ava Gay, Midlo Scoop Staff