War at Home brings audience to tears
War at Home: Students Respond to 9/11
On February 6, 2020, the Midlo Theatre Department performed War at Home: Students Respond to 9/11, the winter one-act play, at 7:00 p.m. in the Midlothian auditorium. This work, directed by Ms. Meagan Doan, focuses on a high school in the state of New York on September 11, 2001. Throughout the thirty-minute piece, the cast captivated the audience with well-executed emotional moments and heart-touching reactions to the 9/11 terrorist attacks, an event that has shaped America.
The play follows high school students who grapple with various devastating losses on September 11, 2001; upon hearing of the attacks, many students, such as the worrier (Morgan Mischke) and the artist (Eden Johnon), immediately grow concerned for the well-being of their family members and for the future of America. Additionally, the introvert (Caitlyn Liu) and the freshman (Bailey Miller) feel overwhelmed with feelings of helplessness; in contrast, the firebrand (Kayse Umbaugh) and the patriot (Patrick Hurt) begin to incite patriotic change among their peers. 
Although the plot centers around a high school population, the play also follows a mother (Anya Ruzicka), as she experiences worry, pain, and relief while she searches for loved ones; the story also touches upon the sensitive ideas regarding religion in the aftermath of the attacks, illustrating the internal stereotyping struggles of a neighbor (Kinsey Sullivan). Throughout the play, actors portraying Muslim students and families brought the pain of these individuals to light, often speaking of their fear to be recognized as a Muslim. The piece concludes with a rendition of "We Shall Overcome," during which the cast holds candles in the dark, symbolizing the darkness that enveloped America after the 9/11 attacks. 
After months of preparation, the Midlo Theatre Department once again delivered a moving performance that sent waves of emotion through the audience and the cast members alike. Midlo Theatre Director Ms. Meagan Doan remarks that "the performance went wonderful" because "during this performance, the audience, many of whom were alive during the attacks, really connected with the story line and felt moved." War at Home: Students Respond to 9/11 proved a success, embodying the exemplary reputation of the Midlo Theatre Department and touching the lives of many.
About the Contributor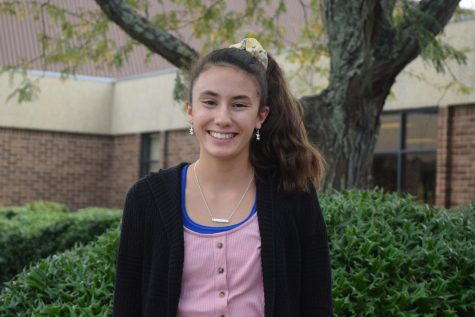 Katherine Krievs, Editor-in-Chief
Katherine Krievs, Editor-in Chief, Class of 2021