Midlo Library hosts Valentine's Day cross-stitching event
February Midlo Library Events
On Wednesday, February 5, 2020, students met in the Midlo Library for a Valentine's Day Cross-Stitching Event. Hosted by librarians Mrs. Heather Murfee and Ms. Emily Mazzanti, students learned the skill of cross-stitching to create pieces in honor of Valentine's Day. 
As they arrived, participants enjoyed a spread of snacks, including: pink frosted cookies, chips, and beverages. Each student chose different Valentine's Day designs to inspire their cross-stitch work. Ms. Mazzanti passed around various shades of pink string for the students to use for their projects. After everyone gathered their materials, Ms. Mazzanti, who started cross-stitching around the age of ten, gave instructions on how to thread the needle and weave through the fabric to create the desired design. She also walked the students through different stitching methods. 
After the instruction, the students set off to work on their Valentine's Day designs. As they worked, love songs played in the background, contributing to the festive mood. Junior Rand Qasem explained, "I decided to make mine as a Valentine's gift for myself, because I love myself." Many students gained a new appreciation for cross-stitching, as it took much time and effort. While the participants perfected their designs, Mazzanti showed off her elaborate Harry Potter cross-stitch. The intricate patterns incorporated into her work inspired the students, as they continued working on their projects.  Yosra Soliman, who crafted a pink heart, shared, "It's much harder than expected." 
As the event concluded, Murfee and Mazzanti encouraged the students to continue working on their creations, whether in the library or at home. Mazzanti reflects on the event, stating, "I think it went really well. Everyone learned a new skill and enjoyed themselves, and they will have a nice product in the end." This event provided a festive way for students to get in touch with their creative side, and even meet new people. Next, the library will host a Paint and Play event on March 19 in honor of Youth Art Month. 
Leave a Comment
About the Contributor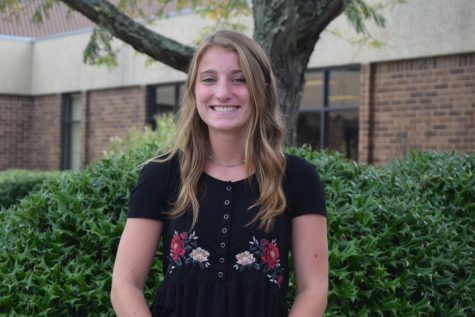 Maddie Burke, Editor-in-Chief
Maddie Burke, Editor-in-Chief, Class of 2021