October Midlo Theatre Coffeehouse fosters musical talent
Midlo Theatre welcomes guest performers
On October 30, 2019, the Midlo Theatre Department hosted one of its first Coffeehouse sessions: a place for students to stage, enact, or play any medium of the performing arts of their choosing. When asked how the Coffeehouse concept began, Midlo's Theatre Head Director Ms. Megan Doan commented, "At my high school in Petersburg, some of my friends and I wanted to start a little club where anyone, not just performing arts students, could have the opportunity to show their interest of the arts in front of their peers if they wouldn't be able to do so outside of the classroom. The program received so much positive reception and feedback, we continued to do it throughout my high school experience, and it's been a tradition at that school ever since."
After reflecting on how the experience deeply affected her and the fellow students from the club, Doan wanted to bring that sense of comaraderie, warmth, and acceptance to Midlothian High School. "As word spreads for this place of performance, hopefully the promotion, participation, and positivity towards it will start to gain sizable traction." the performing arts teacher adds.
As the lights dimmed, chattering subsided, and spotlight hit, the Coffeehouse commenced with a piano medley executed by senior Patrick Hurt. "If any of you know of the animated TV show Steven Universe, this is a pretty emotional piece from the musical Steven Universe: The Movie based off the show. I hope you all enjoy," shared Ring as he began to sing and play the ballad while the spotlight reflected off the piano keys. With a transition of applause, junior Eden Johnson took a seat with her ukulele and strummed through a series of love songs pulled from Hawaiian influence.
Through the collaborative and inclusive work performed by the students, the October session of Coffeehouse has proven to both students and teachers that Midlothian encourages the opportunity for an expression in the arts. The upcoming Coffeehouse dates fall on the last even day of every month, through each lunch in room 402.
About the Contributor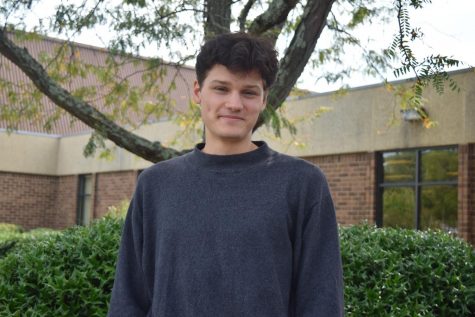 Conan Darrah, Copy Editor
Conan Darrah, Class of 2020