(K)-Pop to the Top
A Spotlight on Angelica Lavan
Perhaps the most difficult transitional element in coming to high school is choosing among the hundreds of activities ranging from cheerleading to Game Club to Model United Nations available to incoming freshmen. Senior Angelica Lavan, however, chose a unique activity to explore: K-Pop. An abbreviation for Korean pop or Korean popular music, K-Pop is a musical genre that encompasses electronic, hip-hop, pop, rock, and R&B music, originating in South Korea. Today, K-Pop is an international sensation, gaining interest all over the world for its fashion and unique style.
Lavan first joined K-Pop at the beginning of her junior year and slowly became more interested as time went on. ¨I actually knew nothing about K-pop when I joined my group," said Lavan. ¨I had received a Facebook friend request and message from one of my current fellow members asking me to come out to a meeting and try it out. At first I was hesitant, but she was really convincing, and I ended up having a lot of fun. Our group turned out to be something I am really grateful to be a part of.¨
Since then, Lavan joined a K-Pop group outside of school, but, just this year, she helped create the first club at Midlo geared towards K-Pop, entitled International Dance Club. Though the club is mainly focused on K-Pop, the club also reaches out to other cultural dances and encourages diversity through dance. Though the group does have set officer positions, the group is open to everyone and is not necessarily a set team. ¨We often invite other people to join us for different performances or covers, such as for our IB Open House performance when we invited IB students to participate," said Lavan.
Today, Lavan thinks of K-Pop as an integral part of her life. ¨It's a really big part of my life that I honestly enjoy," said Lavan. ¨Being in a group with other people who are also fans and getting to share our love for the music together makes K-Pop even more fun.¨ The group meets sometimes multiple times per week but is flexible enough to take breaks around exam time and testing weeks. ¨We make dance covers and perform, but it is all just for fun. It mainly depends on how pressed for time and busy we are," said Lavan.
K-Pop has taught Lavan immense leadership skills and allowed her to find a new side of her.  ¨Over the past two years, I have really enjoyed being so involved in my group. Last year, I was in charge of technology, such as editing, and, sometimes, I helped teach the dances too,¨ said Lavan. ¨This year, I became president, and although at first I wasn't sure if I wanted the position, I feel like taking on this role has really helped me grow into a more able leader, and I am happy that I might have been able to help others have just as great as an experience as I have.¨
Even though high school ends in a few weeks, for Lavan and her fellow seniors, her love for K-Pop will only further develop. As Lavan heads off to UVA next year, she plans to join UVA's K-Edge team next year. ¨Although I will miss my high school group and will always think of them, I look forward to meeting even more people who share my interest,¨ said Lavan. ¨Also, actually having a mirror room to practice in next year will be great!¨ she joked.  
About the Writer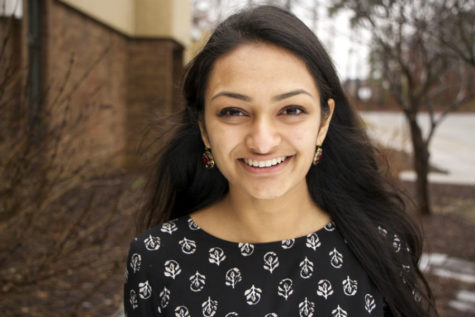 Neha Kulkarni, Midlo Scoop Staff