Trojans bring high energy
2019 show choir & band assembly
On Friday, May 24, 2019, Midlothian High School Choral groups, joined by the Midlo Percussion and Jazz bands, showed off their musical talents at two back-to-back performances to celebrate the closing of the 2018-2019 school year. Show Band, City Lights, Rhythmic Drive, Percussion Ensemble, Pitch Perfect, and Just for Show all filled the auditorium with music for students one final time before the end of the year. Doors opened, and the room filled quickly, as students rushed in to hear the dedicated chorus and band members.  Midlo Percussion Ensemble welcomed the students to the auditorium with a song titled, Lingus by Snarky Puppy. As the song came to a close, Midlo's hosts for the event, Isaiah Morton and Aqwia Harris, came on stage to introduce the all-girls show choir, City Lights, directed by Mr. Atticus Finn.
Behind the curtain, students could hear the loud roar of City Lights doing their cheer before performance. Showing off their patriotism by donning red, white, and blue dresses, the group opened with God Bless, Jackie. City Lights then went on to perform an impressive performance of Ain't No Other Man, Favorite Son, and Always Right Beside Him, featuring soloist Sophia Nadder. The group concluded their showing with a bang through their performance of It's Not Over with soloists Sydney Haveman, Nicole Dudley, Cassidy Shelton, Satya Collymore. City Lights sophomore Lara Brinkman shared, " It felt nice to have our peers see so how hard we worked for the past year. For the seniors, it was their last time performing, so I think going full out for them was a good ending and a lot of fun to do it with them for the last time."
Continuing the performances, Rhythmic Drive, the male student-led a capella group, which meets after school under the direction of James Pridgen and Charlie van den Oord, took the stage to perform the internet famous song, Ol' Town Road. Soloists Bryson Mann, James Pridgen, and Ben Ahern impressed the audience with their amazing voices. Taking the stage, Midlo's Percussion Ensemble Jazz Band, under the direction of Mr. Gordon Rawls, played I Wish by Stevie Wonder. The audience roared as Midlo's Jazz Band showed off their talents.
Next up was Midlo's female a capella group Pitch Perfect, under the direction of Sydney Grace Havemann. Pitch Perfect provided an outstanding performance, singing Holdin' Out For A Hero. Soloists Hailey Epps, Nicole Green, and Nicole Dudley performed and sang their hearts out for the last performance of the year.
For a big finale, Midlo's mixed show choir group, Just For Show, under the direction of Mr. Atticus Finn and dance captains Sydney Barefoot, Peyton Strange, Charlie van den Oord, and Bailey Carter dazzled in fire colored sparkle dresses worn by the ladies, and the gentlemen wore dashing black suits with red bow ties. This show featured six incredible songs: The Phoenix, Crazy=Genius (with a solo from Charlie van den Oord), Don't Let the Sun Go Down (with soloists Hunter Pearson and Peyton Strange), Trespassing, Fire Under My Feet, and We Belong As One. These amazing performances lit up the room and filled the audience with excitement.
Show Choir Band Members :
Trumpet: Ryan DaGrava, Rachel Smith, and Jakob Marshall
Tombone: Cydney Thrash, Megan Wunderlich, Keenan Williams, and Zander Hesch
Alto Sax:  Jennifer Zhandira, Ben Wrobel, and Emily Whitlow
Tenor Sax:  Megan Fellstrom and Whit Martin
Bari Sax:  Colby Valiant, and David Taylor
Bass & Percussion: Brianna Cantrall, Austin Lubnewski, and Kyle Alter-matt
Piano:  James Pridgen playing for City Lights, and Makayley Crisp playing for Just For Show
Keyboard and Guitar:  Olivia Cottrell and Trae Papierniak
Leave a Comment
About the Contributor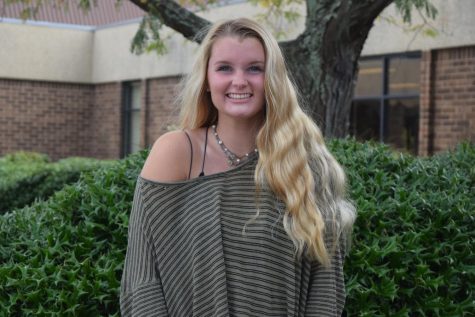 Cara Hahn, Midlo Scoop Staff