Midlo Theatre dreams the impossible dream
Midlo Theatre Presents: Man of La Mancha
Midlothian High School's final show for the 2018-2019 year premiered on May 9, 10, and 11. Selected by Mrs. Katherine Baugher, the musical was a fun-filled adventure co-directed by senior Pauline Spencer. The show brought many cast members and audiences to tears, since it is Mrs. Baugher's last show in her 48 years of teaching. She has created an impact on every student she has touched, and she made sure this last show was the best of the best. With this in mind, the cast worked hard every day after school to rehearse the masterpiece that is Man of La Mancha.
It began with an opening from the band, directed by Mr. Gordon Rawls. The story takes place in a prison cell, where two curious-looking characters enter. On trial by their fellow prisoners, in order to aid their defense they perform a play as a form of entertainment. The first character portrays Don Quixote (Jake Feldpausch), an older man who believes he is a knight destined to fight all evil. The second character plays Sancho (Noah Burch), the squire and friend to Don Quixote. Together they sing Man of La Mancha and ride on to numerous adventures. Along the way, they meet Aldonza, played by Peyton Strange, who sees life as a dung heap, which is opposite to Don Quixote's worldview. When these characters come together, their stories blend, creating a tapestry impossible to forget.
The set, built by Mr. Jamie Nicholas and students in crew, artfully show the prison with bars in the background and many levels for the actors to utilize. With Baugher and Nicholas leaving next year, this show gave them the chance to go all out, doing what they love for Midlothian High School one last time. Baugher's past students visited each night to witness her wonderful creation.
One of the show's most famous songs, The Impossible Dream, sung by Don Quixote, tells of a quest, which althought difficult, must be accomplished  regardless of the cost. The lyrics speak to the hearts of many, creating an impact that resonates, even after the conclusion of the show.  Since this was the last show for seniors as well, Saturday night's performance resulted in tears for the end of the creation they had made together. As everyone departed to go their separate ways, the lyrics of the Finale seemed to guide their path:.\ "To reach the unreachable star, though you know it's impossible high, to live with your heart striving upward to a far, unattainable sky!"
The Midlothian Theater Department would like to thank Mr. Nicholas and Mrs. Baugher for making Man of La Mancha a fantastical show. They cry for the end of this story, but look forward to the possibilities of the next. 
About the Contributor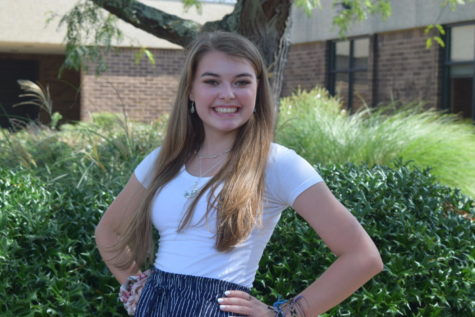 Rachel Bybee, A & E Editor