Woolard Spreads Love of Birds
Spotlight: Mr. Zachary Woolard
First-year biology teacher Mr. Zachary Woolard has a unique hobby. During their free time, many people join a sports team or find their passion in the fine arts; however, Woolard takes a road less traveled: he spends his free time bird watching. Three years ago, while visiting Acadia National Park with friends who were avid birders, he had the opportunity to learn more about the world of birds. From that moment, his love and fascination of birds soared.
At the beginning of the school year, Woolard took the initiative to further his knowledge of birds, joining the Richmond Audubon Society. The organization, comprised of over 1,400 members, gives bird lovers from across Central Virginia a chance to gather and bird watch. Roughly ten to twenty people assemble on Saturday afternoons at one of the numerous birding hot spots, such as: Pocahontas State Park, Great Blue Heron Rookery, and Maymont Park. Woolard states that one of his favorite hot spots is "Henricus Park/ Dutch Gap Conservation Area because it is excellent for [seeing] winter waterfowl, especially ducks."
Most bird watchers record the number of birds they see each year; in the following year, they strive to surpass the previous year's number, which inspires a friendly competition between the birders. In 2019, Woolard has observed approximately sixty-nine birds and plans to see many more in the coming months, due to the growing number of birds that are migrating north for the spring season. As the migration season approaches, the amount of field trips that the Richmond Audubon Society goes on, per month, increases, giving birders the chance to observe as many beautiful feathered creatures as possible.
His love of birds has also influenced his teaching style. Before Spring Break, as an extra credit opportunity, he challenged his students to memorize fifty common birds of Virginia. Many students rose to the occasion and dominated the task with ease. Sophomore Owen Hayes reflects, "It was one of my favorite assignments, and it motivated me to learn more about birds."
Woolard's enthusiasm about birds has inspired his students. Sophomore Sarah Nugent states that "Mr. Woolard amazes me every day with his knowledge about birds. It makes me laugh and smile. I look forward to going to his class every day because of his passion for birds." Woolard plans to spread his love of bird watching to Midlo by introducing a Young Birders Club in the 2019-2020 school year. This club will allow students to explore the migration patterns, distinguish different bird calls, and identify various types of birds. Through the club, Woolard hopes "to help students increase their appreciation and knowledge of birds and to better understand the stories they tell."  
Click here to learn more about the Richmond Audubon Society.
About the Contributor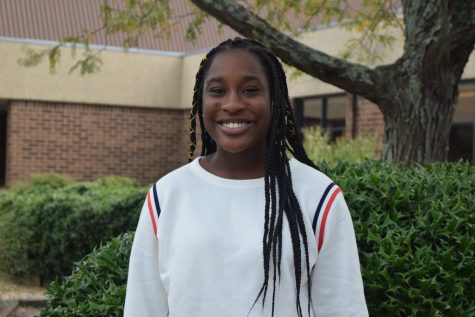 Zinzi Symister, Midlo Scoop Staff
Zinzi Symister, Class of 2021