Midlo Hosts Annual Pyramid Concert
On February 28, 2019, at 7:00 pm Tomahawk Creek Middle School and Midlothian High School participated in the annual Pyramid Concert, hosted by Midlo. Pyramid Concerts showcase the different stages of choral groups as students progress, showing the growth and hard work each group puts into its music. Family and friends filled the auditorium, ready to cheer on every participant.
To kick off the evening, the Chamber Ensemble, a mixed chorus group, stunned the audience with its song, My Bonnie Lass. Pitch Perfect, an all-girl a capella group, led by Sydney Havemen, sung I Need A Hero. Soloists for this popular tune included: Nicole Dudley, Hailey Epps, Sydney Wilbourn, and Nicole Green. Next up was Vocal Ensemble, the all female freshman class. With a tough act to follow, they did not disappoint. The freshman girls blew the audience away with their energetic and coordinated dance moves. James Pridgen and Charlie Van Den Oord led Rhythmic Drive, the student-led all-male a capella group, as they sang Rumor Has It.
City Lights, the more advanced all girls group, channeled all of their energy into their dance moves and singing. The Midlo Show Band accompanied their upbeat tunes. Tomahawk's 8th grade chorus and their boys after school chorus club also performed. The young voices filled the room quickly, entertaining the audience. Taking the stage next was Just For Show, featuring Van Den Oord, who stunned the crowd with his solo in the song Phoenix. Later in the performance, Peyton Strange and Hunter Pearson sang a beautiful duet of Don't Let The Sun Go Down On Me.
As the night came to a close, all the choral groups united to sing God Bless America. The crowd erupted into applause and then into a standing ovation, still in awe of the angelic voices on stage. It was easy to tell that these devoted students put their heart and soul into every performance. Sophomore Siobhan Flood shares that her favorite part of the night was, "when the curtains opened, the excitement hit; then, seeing all the smiling faces in the crowd made [her] even more excited." The night was a success, and all who attended walked away with a deeper appreciation for the creative arts.
About the Writer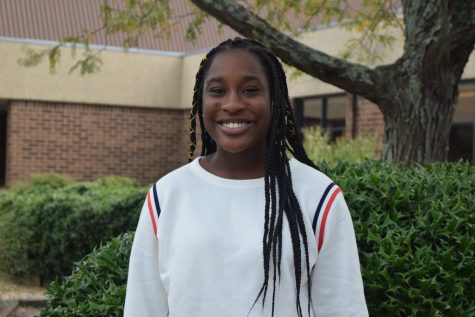 Zinzi Symister, Midlo Scoop Staff
Zinzi Symister, Class of 2021