Rizzo Furthers Her Acting Journey
Students who carry many talent pack Midlo's hallways. From art to athletics, Midlo students use their passions both for their own enjoyment and to further their careers in preparation for the future. Among the Midlothian High School population, Sophomore Nicole Rizzo's love of acting stands out, especially since it plays a vital role in her life. Her upbeat and spunky personality has taken her far on her acting journey.
At the age of five, Rizzo began her career in community projects in Halbrook, New York. From there, her acting career has grown immensely. In the sixth grade, she landed a role in The Music Man and played the character of Amaryllis; during this experience, she found her true passion for performing. Currently, she acts as a member of the ensemble in the Midlo production, The Curious Incident of the Dog In the Nighttime. Rizzo has performed in six theater productions thus far and her love of being on the stage multiplies after every performance.
She recently auditioned for a job position at a local party center to play the role of Anna from the popular Disney movie Frozen. She eagerly awaits shadowing the princesses and eventually start training. In order to keep the magic alive and fulfill every child's dream birthday party, Rizzo's duties at the center will consist of singing, dancing, and acting. Her undying admiration for being on center stage is a trait that she will carry throughout her life.
What do you hope to get out of your new job ?
I hope to share the childlike wonder that comes with Disney magic. I want to share my favorite moments with children, and make their dreams come true through fun and frolic.
What has the Midlo theater program taught you?
The Midlo theater program has done nothing but bring me closer to my true passion: theater. I want to enjoy my high school theater career for as long as I can.
What has been your favorite performance and why?
My favorite performance was freshman year, when I was Sally Brown in You're A Good Man Charlie Brown. I just want to enjoy my time and have fun with my theater, and Charlie Brown gave me a perfect opportunity to do just that. 
What career options do you plan on pursuing?
I hope to eventually pursue a theater career, no matter how much it takes. If the harsh reality of adulthood squashes those dreams, then I will proceed to go with the flow and see where life takes me! 
What is the most useful thing you have learned while doing theater?
The most useful thing I've learned from theater is to connect with the audience. There is no time like the present, and when you're up on stage in the moment, it is important to connect with who you're performing for; this will play into when I begin training to be a princess at a local party center.  I'm so excited to do what I can to make people's parties as magical as possible.
About the Contributor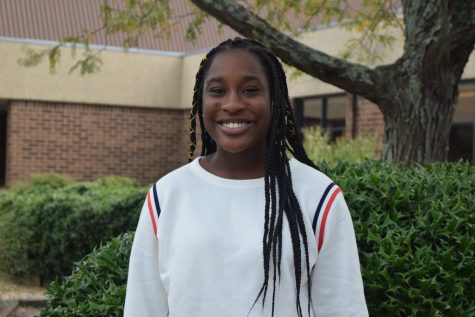 Zinzi Symister, Copy Editor
Zinzi Symister, Copy Editor, Class of 2021