Czenczek Rocks Her Socks for Holiday Spirit
Spotlight on Elizabeth Czenczek
Hang on for a minute...we're trying to find some more stories you might like.
Many Midlothian High School students celebrate different holidays and celebrations as the winter season approaches. Whether it be Hanukkah, St. Nicholas Day Celebration, Christmas, Kwanzaa, or New Years Eve, December is full of festivities. Senior Elizabeth Czenczek celebrates Christmas, claiming that it is one of her favorite holidays of the year, and to prove it, she shows off her Christmas spirit throughout December by wearing 25 different pairs of holiday socks, one for each day until Christmas.
Czenczek celebrates on Christmas Eve, which is a part of her family's Polish tradition. That night, her family breaks bread, celebrating with a festive Polish meal, including: fish, beet soup, and pierogies, a Polish delicacy consisting of skillet fried dough stuffed with potatoes, cottage and cheddar cheese, and bacon. Czenczek then exchanges Christmas gifts with her siblings, giving them a chance to open a gift before the much anticipated Christmas morning. Afterwards, the Czenczek family goes to Christmas Eve mass at their church at 10 pm, and upon returning home, they gather to watch the televised mass of the Pope, while enjoying Christmas cookies.
Although Czenczek participates in these activities at home, many students around Midlothian know her better for her holiday style. Czenczek began wearing charming Christmas socks during her sophomore year; now that it has become a tradition, she doesn't go a day in December without wearing fun or tacky holiday socks. Whether they are socks decked out with snowmen, reindeer, Santa hats, or elves, Czenczek turns a simple necessity into a bold fashion statement in the cold weather. "I love buying fuzzy and cute socks, and there's no better time to show them off than during the holiday season," Czenczek claims. When asked if she has a favorite pair, Czenczek replies that she "can't choose just one!"
About the Contributors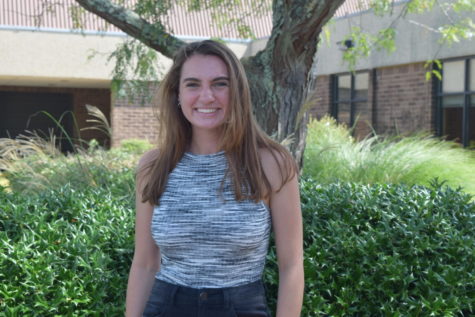 Carrie Rowley, Midlo Scoop Staff