Winter Sports Gear Up for a New Season
2018-2019 Winter Sports Preview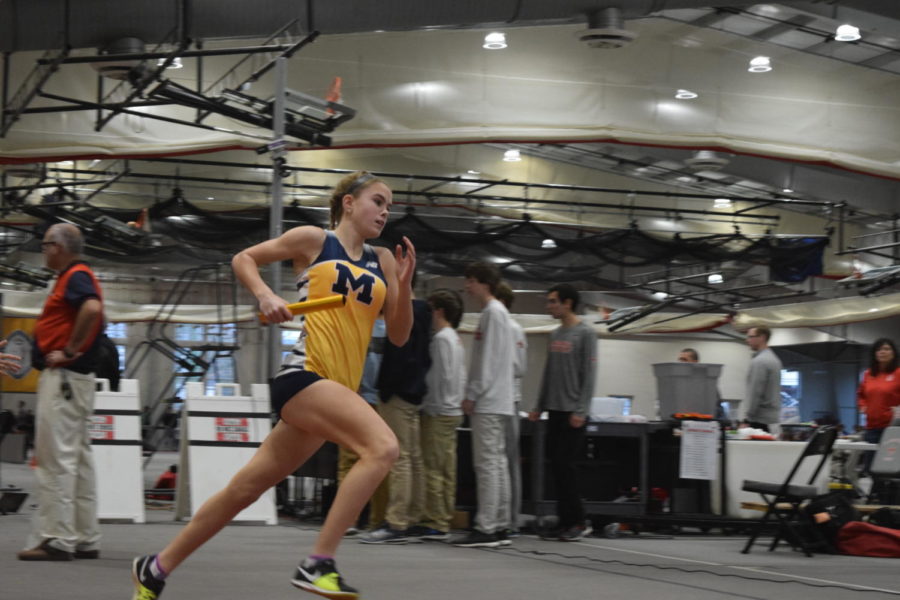 Indoor Track
Coming off a prosperous cross country season, Midlo is looking towards yet another winning season. Practices began last week under the direction of coaches Dan Ward, Stan Morgan, and Matt Hutchings. The coaches and athletes are each hard at work preparing for the first upcoming meets. Starting in December, three polar bear meets will take place at local schools, as well as indoor invitational meets at top tracks, including: Liberty University, St. Christopher's, and VMI. Although the team lost graduating seniors, including sprinter Addison Sanders and throwers Nia Lloyd and Tori Ann Hamilton, a combination of fresh talent and seasoned runners will carry the team to success this year. Senior JMU Commit Erin Babashak will benefit the team with her talent on the hurdles and jumping. Cross Country stars Caroline Bowe, Katherine Krievs, Annabel Schepker, and Max Etka, who each placed high in States, will carry their talent over to the indoor season. "We have some talented young ladies coming back, and I'm anxious to see what they can do," Morgan states. Although an abundant number of talented girls return this season, according to Morgan, it will prove to be a rebuilding year on the boys' side. In the past years, the team consistently sent numerous qualifying athletes to states and aims to do the same this season
Boys Basketball
New coaches, Jarhon Giddings and John Pruitt, are hard at work, getting their team up and running. After a booming 2017-2018 season, they believe this year they can push the team to do even better. Basketball competes in their first home game on Tuesday, November 27, against Dinwiddie. Senior leaders Matthew Kotait, Neil Richburg, and Will Pomeroy strive to push the team to victory this season. Coach Pruitt looks forward to his first year coaching the Midlothian Trojans, and states, "I think we have a good team, but for the team at this moment, we are working on the day-to-day improvement. We are just trying to do the best we can by taking it slow and doing teamwork." The team has already started practicing and are getting to know their new coaches and teammates. With their first game coming up, they have already started to build a bond that will help them get through this upcoming year.
Girls Basketball
After a loss of three key seniors, Nia Lloyd, Morgan Gilbert, and Irish Kulas, the Trojans look to bounce back this season with a fresh, young team.  Attempting to top a successful 2017-2018 season, which ended in a trip to the Regional Quarterfinals, the Trojans will try to turn this rebuilding year into a successful season. Returning to the Trojans are impactful sophomores, Abbie Campbell, Jenna Shadders, Tiffani Bartee, and Maddie Fath, who all hope to bring new energy to the team this year.  Coach Adam Layton, now entering his 7th season, looks forward to this upcoming season, saying, "I am excited about seeing how our team comes together and seeing if our younger players can step up to fill the void from graduated players." The first game for the Lady Trojans takes place on Tuesday, November 27, 2018, against the Dinwiddie Generals at Midlothian High School.
Wrestling
Here's to a new era of wrestling for the Midlothian High School boys. The team is starting off the season with new coaches, Coach Keelan Moore and Coach Kevin Burks after losing star senior competitors, Will Sayegh and Jared Worley. Continuing the wrestling legacy, seniors Chris Sawyer and James Mills still hold the top positions, along with junior John Bolstad. With practice starting after Thanksgiving Break, the boys will begin to prepare for their first meet on Wednesday, December 5, 2018, at Cosby High School.