Beat Dr. Frankenlichtenstein
Mrs. Tully's AP Lit Classes Participate in Frankenstein Breakout Boxes
On Wednesday, November 14, 2018, Mrs. Tully's AP Literature classes gathered in the library to participate in a special literary activity created by Midlo's head librarian, Mrs. Heather Murfee. The theme was Frankenstein by Mary Shelley, with an end goal to find the creature's scattered body parts. Mrs. Murfee designed an escape room style game with a twist. At the beginning of the activity, she described a story that began with the end of the novel, when the creature killed himself in the Arctic. Mrs. Murfee's set-up then evolved into a detective story, in which Dr. Victor Frankenstein's great great great great great grandson, Dr. Frankenlichtenstein, wanted to rediscover the scattered body parts of the creature to reanimate him. The goal for the AP Literature students was to discover the "body parts" locked away and crack the code of the box before the fictional Dr. Frankenlichtenstein retrieved the pieces of Frankenstein's creature. With a timer set to 45 minutes, the class scattered, searching for clues to crack the case.
Before they began to search for clues, the class split into four groups. Each competed against the clock and each other for the big win of five extra credit points on a recently submitted essay. Each group was given a set of clues to open the three lock boxes, a three digit lock box, a four lock digit box, and the main box. The smaller lock boxes contained clues to open the main one. The initial clues given included a biography of Mary Shelley and a nonfiction book's call number. From there, the only help students received were hints given by Ms. Murfee. The hints came with a one minute penalty from the overall 45 minute time limit. Once the students cracked the code, they found a green Rice Krispie treat for each, which represented the creature's remain, as well as a congratulatory note inside the main box.
Mrs. Murfee designed the clever breakout boxes for the literature students. When asked about the creation of the idea, she shared, "It all starts with a plausible story line, and I worked from there." The librarian had created other breakout boxes before, but this was the first time she did it for the Frankenstein novel. Some of the ideas actually stemmed from the artist Roy Lichtenstein, famous for his painting entitled, "The Crying Girl." The creativity behind the activity wowed many of the students.  "Even though our team didn't win, I still had loads of fun," Chloe Naughton said. "I felt like a detective."
For those who have not done something like this before, Zowie Geng offered helpful advice, "Always make sure to follow instructions and get all the materials together at the beginning." Both of the classes enjoyed the activity so much that they asked if Mrs. Murfee would be kind enough to make another breakout box for their next book, The Great Gatsby; she kindly agreed.
About the Contributor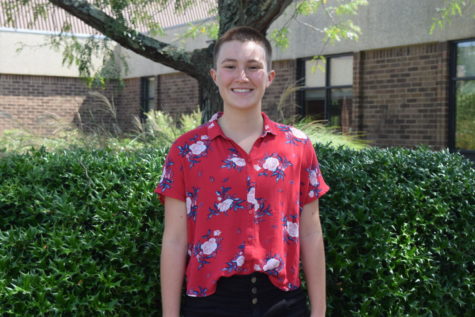 Marisa Ruotolo, News from the Classroom Editor