Latin Students Haunt Teachers with Spooky Tombstones
Mrs. Petersen Incorporates PBL into Roman Inscriptions Unit
During the weeks approaching Halloween, Mrs. Amy Petersen celebrates the spooky holiday with Latin tombstones. Mrs. Petersen constructed a Project-Based Learning assignment for her Latin students to make a tombstone, monument, or triumphal arch. This assignment aligned with the end of their Roman Inscriptions unit. In past years, her students created the tombs for themselves and decorated the classroom with them. This year, the tombs are on display for the public to view and honor the students' favorite teachers. 
The Latin students have worked on the projects for the past several weeks. First, the researched typical inscriptions, making the assignment incorporate interactive learning. The typical format of Roman epitaph is: "___ made this for ___, who lived ___ years, ___months, ___days."  Students included adjectives to describe their teachers, such as: "very dear," "sweetest," or "most intelligent." They then added a sentence about who the teacher is loved by or how they "passed". Perfecting the grammar and learning new vocabulary was a monumental part of the assignment. After students turned in their finished products, the library made it official by laminating them.
Students added elements of comedy or admiration to the inscription of their chosen teacher's tombstone. Some decided the best route was to write about how great that teacher was before they fictionally died. Maddy Pugh's reads, "Dis Manibus, Magistro Spewak, Qui Vixit Annos XCIX Menses Xi Dies XXXI, Dulcissimo Et Altimisso, Bene Merenti, Urbana Fecit, Ab Discipulis Schole Amatus Est," which translates as, "For the ancestral spirits for Mr. Spewak, who lived for 99 years, 11 months and 31 days, the sweetest and the tallest, well deserving, Urbana made this, he was loved by the students of the school."
Others took the humorous path of a ridiculous "death." For example, the tombstone that Marcus Royster created translates to: "To Mr. Fletcher, duration of life: 1600 years, 10 months, 5 days, the most skilled, Marcus made this." The Latin students thoroughly enjoyed the project and look forward to more learning techniques incorporated through project based learning.
About the Contributor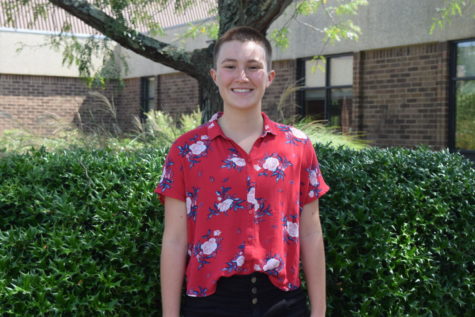 Marisa Ruotolo, News from the Classroom Editor