Goodbye for Now
Midlo Theatre Awards Center Stage Company Induction and Says Goodbye to Seniors
On May 26, 2018, Midlothian's Center Stage Company met in the theater for another once-in-a-year meeting.  The new inductees kicked off the meeting with hilarious skits and cry-laughing references. With the theme "Blast From the Past," everyone dressed up as a character from a past show. It was an incredible opportunity to enjoy the sense of nostalgia, as everyone wore costumes they'd placed in the back of their closets. The evening continued with Mrs. Katharine Baugher and Mr. James Nicholas congratulating the new inductees and handing them a certificate upon their new membership.
Every show an actor or crew member takes part in gives them a certain amount of points. It takes at least ten points to become a member of Center Stage, and per every ten points, participants earn a special gold star to put on the certificate. Membership is considered an incredible honor, one the entire theater department strives to earn. After distributing the stars, Mrs. Baugher took the time to talk about each senior and give them "a piece of our hearts:. Leah Besser, Ella Morefield, and Dreya Fernandes continued the evening by handing out senior superlatives. Some of the awards included: most likely to eat in the theater, most likely to open a door during a blackout, most mom and dad, and best duo. It was soon followed by a delicious dinner and a presentation of all of the shows the seniors took part in.
During the presentation, everyone discovered the pieces that Midlo's Theatre Department will perform next year. The 2018-2019 year will start in the fall with The Wizard of Oz (student directed by Peyton Strange), followed by The Curious Incident of the Dog in the Nighttime (student directed by Samantha Ramirez), and the spring musical will be Man of La Mancha (student directed by Pauline Spencer). It will no doubt be an incredible year!
To finish the night, everyone gathered for senior speeches. Each senior poured their heart out, each of them thanking everyone for the incredible years they shared and memories they'll never forget. It ended with final goodbyes, many tears, and many stars in the sky shining upon the Midlo Theatre Department.
About the Contributor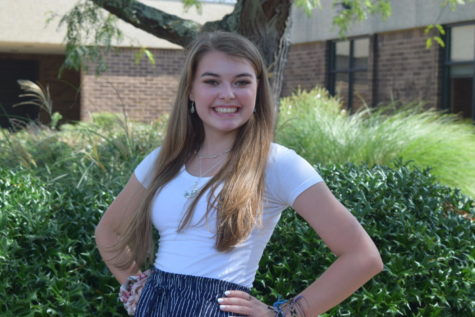 Rachel Bybee, A & E Editor