Fiddler on the Roof Captures the Meaning of Tradition
Audiences swarmed to Midlothian High School on May 10, 11, and 12, for the premiere of Fiddler on the Roof. Published in 1964, the musical is well known to this day. The show begins with a fiddler, played by Jinwoo Kim, on a roof, playing the unmistakable tune of the opening number: Tradition. Tevye, played by Brent Novey, walked on stage to introduce the people of Anatevka, a Jewish village in Russia. These people always follow their traditions and never intend to stop.
The opening number left audiences in awe, leaving no time to recover, as the show leaped into the next scene. Tevye's wife, Golde, played by Madi Jarvis, was introduced as a stern woman trying to control the chaos of the house. Tevye's five daughters were also introduced, the oldest being Tzeitel (played by Peyton Strange), followed by Hodel (played by Brooke Ward), then Chava (played by Lara Brinkman), and then the youngest two, Shprintze and Bielke (played by Eden Johnson and Avi Ben-Meir). The daughters are shooed away when the village matchmaker, Yente (played by Rachel Bybee), comes to visit Golde. The old, yet hilarious, character explains to Golde that the village's butcher, Lazar Wolf, is interested in marrying Tzeitel. Once Yente leaves Golde to absorb the news, Hodel and Chava sing Matchmaker, dreaming of a husband of their own. Tzeitel scorns them, saying they should accept whatever husband Yente brings them. A sweet moment occurs when the daughters transition into a scene with Tevye, where he sits and has a private talk with God. The monologue turns into song, and Tevye belts one of the most well-known songs from Fiddler on the Roof: If I Were a Rich Man. After Tevye's ballad, the audience learns that Tzeitel loves a young tailor named Motel (played by Truitt Elliott), who wants to go against tradition and marry Tzeitel. He stays over for the Sabbath, and with the ensemble, they sing Sabbath Prayer, an enchanting and gorgeous song.
After the Sabbath, Tevye heads to meet with the butcher Lazar Wolf (played by George Welch). They talk and agree that Lazar will marry Tzeitel, and together they sing with the ensemble the fun and upbeat song To Life. When Tevye returns to tell Tzeitel the news, she cries to him and begs that he doesn't accept this. He agrees, and Motel enters, proposing that he marries Tzeitel. Tevye goes deep into a monologue, debating whether to break tradition and let his daughter be happy, or stay true to his beliefs. He agrees to their marriage, and Motel, in celebration, sings Miracle of Miracles to his fiancé.
Tevye, in a hurry to make Golde accept Motel marrying Tzeitel, comes up with a dream where Lazar Wolf's dead wife, Frumah-Sarah (played by Meredith Puster), comes to haunt them. The eight-foot-tall spirit chants that as long as Tzeitel marries Lazar Wolf, she will curse Tzeitel. In terror, Golde agrees that Tzeitel will marry Motel. With the ensemble echoing Frumah-Sarah's curse, The Dream was a favorite scene among the audience. The story heads into the wedding, where the characters sorrowfully harmonize Sunrise, Sunset; a song about time passing on and growing older. It's quickly followed by the wedding dance and then the well known bottle dance. The audience sat at the edge of their seats as four people balanced bottles on top of their hats. Only one bottle fell among all three nights.
As the wedding proceeds, a few attendees argue that Motel and Tzeitel have broken tradition and should not be married. As they argue, the wedding explodes into chaos. A boy not of the Jewish faith named Perchik (played by Garret Redden) interrupts the turmoil. Once everyone unhappily sits, Perchik crosses to the women's side of the room, where no male should cross. He holds his hand out to Tevye's daughter, Hodel, and asks her to dance. Even though this gesture defies their traditions, Hodel stands to dance with him. Adjusting to the sight, more and more men and women dance together, only to be broken up by Russian soldiers, led by the Constable (played by Jake Feldpausch). The Russian soldiers destroy the wedding, and the first act ends.
The second act continues with Hodel and Perchik in love and wanting to marry. Although Perchik is leaving to go to Kiev, he has never been happier, and sings Now I Have Everything to Hodel. Together, they ask for Tevye's blessing. After a moment of thought, Tevye gives his blessing and permission, anxious about what he will tell Golde. Golde joins Tevye on stage, mad at letting Hodel marry such a man. Tevye questions whether Golde loves him, and together, the couple sings Do You Love Me? After twenty five years of marriage, they had never said 'I love you' to each other until this moment.
After the heartwarming song, the mischievous Yente comes out, and spreads in The Rumorthat Perchik was arrested in Kiev. Hearing this, Hodel immediately heads for a train to be with Perchik. Tevye tries to talk her out of it, but determined, Hodel sings Far From the Home I Love, knowing all she wants to do is to stand with the love of her life.
As Hodel leaves, Tevye's third daughter is also in love. Chava's met a Russian named Fyedka (played by Jeffrey Wang) and has the courage to ask Tevye if she can marry him. Tevye, in a rage, yells for Chava to never see him again, saying he'll never allow her to marry a Russian. Tevye does not realize that his rage will cause Chava to run away with Fyedka and marry him. Tevye sits alone, singing the lullaby Chavaleh. He remembers the time when his three eldest girls were young, and now each of them is now taken away by a man. By the end, Chava appears, begging Tevye to accept her relationship. He screams at her and turns away, leaving Chava to cry alone on stage.
The following scene follows the villagers, interrupted by the Constable with a message that all the Jews must leave Anatevka in three days. The heartbroken villagers sing one last time the melancholy song Anatevka, their sorrow seeping into the audience. It follows with Golde and the family packing. Yente and Lazar Wolf come to say their goodbyes, bringing sorrow to the audience. However, surprise strikes the family when Chava and Fyedka appear, saying their last goodbyes, and make peace with Tevye. In one last heart-wrenching scene, Tevye stands alone with the fiddler, who plays the tune the audience heard from the very beginning.
Student-directed by Dreya Fernandes, this was the third time Mrs. Katharine Baugher has directed Fiddler on the Roof. On Friday night, the 1979 Tevye and 2001 Tevye met with Brent Novey. Together, they harmonized with the cast, and just for Mrs. Baugher, did If I Were a Rich Man. Novey explains the experience with, "In that moment, I knew I was exactly where I was supposed to be. It was something I'll never forget. Each Tevye was so different from the others, yet the same." The cast's hearts saddened with the realization that this would be the seniors' last show. On Saturday, tears flowed at curtain call, as everyone hugged, proud of the show they worked together to create. They forged new bonds through the long rehearsals, and formed a connection through the traditions of the show.  This show drew many people into the art of theater and has changed lives for the better.
About the Contributor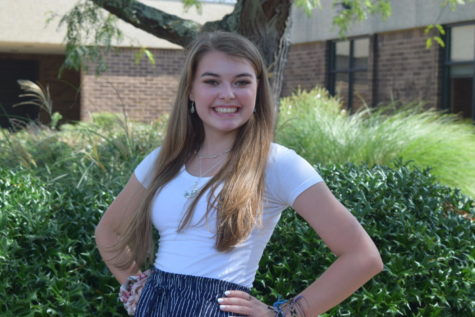 Rachel Bybee, A & E Editor