Novak Takes On Paris
Delaney Novak Visits Paris, France, During Spring Break
Spring Break calls for warm weather, exciting memories, and of course, exotic vacations. Junior Delaney Novak visited Paris, France, and toured all around the lavish city during her Spring Break. Looking back, Novak described the trip as a chance to immerse herself in a different culture, while being fortunate enough to have the opportunity to go abroad with her family. "Even though I only spent a couple days in France, I won't forget it; it was an experience of a lifetime," Novak comments.
Where did you go during Spring Break, and what did you do there?
I went to Paris, France, and I explored the Eiffel Tower, Arc de Triomphe, the Musée du Louvre, and the Catacombs. I went sight-seeing and took tours around each area. 
What activities did you enjoy most about your vacation?
I liked visiting the Louvre Museum; I got to see the Mona Lisa and various other pieces of art. My favorites were the Renaissance sculptures. I also enjoyed visiting the catacombs, which is basically a large, underground cemetery.
Was there anything specific that really stood out to you during your time there?
One thing that really stood out to me was the Eiffel Tower at night time. It was lit up and glowed in the dark, and for five minutes at the beginning of every hour, the lights on it would sparkle.
What did you think about your entire trip?
It was very interesting and new to me; it reminded me of New York in some respects, but ultimately, it was like nothing I have ever experienced before. It was fast-paced yet very peaceful at the same time.
How would you summarize your entire vacation?
It was a vacation full of new experiences. I loved visiting Paris. Even though I don't speak the language, I still felt very included in the rush of the city. The catacombs were nothing like I've ever seen, and the art of the Louvre was breathtaking. The food was great and new to me, and I've never had pastries fresher than in Paris. Everything about the trip was new and amazing and captured my attention.
About the Contributor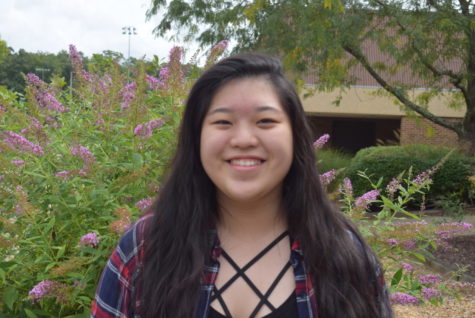 Anna Chen, Midlo Scoop Staff