Remembering Their Service
On Wednesday, November 11, 2015, at 11:00 AM, the students and faculty of Midlothian High School came together to remember Major Charles A. Ransom, a former Midlothian student, who gave the ultimate sacrifice for his country. The idea began a few years ago when Midlothian graduate Stephanie Olson approached Principal Shawn Abel with her idea for the war memorial. After painstaking research, Stephanie found out that Major Ransom is the only known former Trojan to have lost his life in battle. With the help of her mother, Cammie Olson, Stephanie set up a GoFundMe account for the project to honor Major Ransom's ultimate sacrifice.
After students, faculty, and guests arrived for the ceremony, Senior Class President Frankie Urcia welcomed everyone, introduced James River High School Naval JROTC, and led the crowd in the Pledge of Allegiance. Mr. Abel greeted those in attendance and explained the origin of the memorial. Senior Class Historian Matthew Cousins spoke about Major Ransom's noble service to this nation, as those in attendance, including veterans from American Legion Post 186, as well as classmates from VMI, listened attentively. Student Council President Maddie Dutton presented flowers to Major Ransom's mother, while Casey Berry beautifully sang a touching rendition of Amazing Grace. Commander Randy Lofland of American Legion Post 186 spoke about honoring our veterans and laid a floral wreath next to the memorial stone. As a tribute to all veterans, Just for Show sang America the Beautiful, which resonated on the crisp, fall day.
When asked about how important it is to him that schools have memorials to honor our veterans, Dr. Marcus Newsome, Superintendent of Chesterfield County Public Schools, emphasized the importance of educating students about the sacrifices our veterans make to keep this country free, saying, "We live in a great country, and education is key to our freedom." Major Ransom's mother, father, and brother were moved by the ceremony. Mrs. Ransom explained, "It (the memorial) holds a special place in my heart." She appreciated the fact that Stephanie reflected enough to want to create the memorial. Principal Shawn Abel said the memorial "fills me with pride" and noted that Stephanie represents the entire Midlothian High School community so well. It was such an honor for Midlothian High School to recognize all those who made the ultimate sacrifice.
About the Writer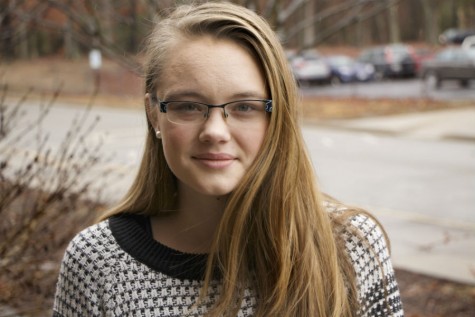 Emily Junkmann, Technology Editor
Emily Junkmann, Class of 2017