Stunning Singing Stars Shine Brightly
Midlothian Chorus Kicks of Annual Night of Stars Showcase for 2018
On Friday, February 16, 2018, Midlothian choral groups came together for the annual Night Of Stars to showcase their seasonal routines. City Lights, Rhythmic Drive, Chamber Ensemble, Pitch Perfect, and Just For Show, accompanied by the amazing Show Choir Band, highlighted their talent for a huge audience. The auditorium grew with an anxious crowd, filled with family, friends, and music lovers of all kinds. Choral Director Mrs. Michelle G. Graham parted the curtains and opened the show with praise for all of her students, as well as an expression of gratitude for all who have support the program during years of teaching at Midlo, as her retirement approaches. The Choral Department also thanked the community partners for supporting the program. Proceeds from Night of Stars will go toward the program and numerous senior scholarships for outstanding choral students.
The show began with City Lights, revealing students decked in beautiful, sun-colored and sparkly dresses. They opened with When I Grow Up, featuring soloist Anna Patterson, which included lively choreography, passionate students, and an excited audience. Next, City Lights performed a show-stopping medley that promoted Girl Power, including: Mama, I'm A Big Girl Now, Watch Me Soar, Man! I Feel Like A Woman, and Woman Medley, featuring soloists: Kimmy Wrobel, Sydney Havemann, Leah Besser,  and Anna Patterson. Senior Tori-Anna Hamilton expressed her love for the event, explaining that "[she] enjoys showing how hard they have worked and singing with all [her] friends." Each person in the audience smiled with pride for the talented high school students.
Midlothian High's all male a capella group, Rhythmic Drive, under the direction of John El-Jor and Hunter Forsythe, hit the stage next for a rendition of Let's Get It Started. Soloists, Will Johnson, Charlie van den Oord, Yosef Collins, Lee Elkins, and Michael Glover, rocked the stage, singing their hearts out, followed by members of Chamber Ensemble, who came out with a lovely version of This Little Light of Mine and Tshotsholoza (Go Forward) with strong solos from George Welch, Garrett Redden, John El-Jor, Connor Johnson (bongos), and Zack Smith (djembe).  Family and friends in the audience cheered with joy, amazed at the amount of talent on stage. Under the direction of  seniors Kimberly Beasely, Christina Ju, and Caitlin Maloney, Midlothian's all girl a capella group Pitch Perfect took the stage and sung Feelin' Good, with soloists Leah Besser and Hailey Epps.
As part of an annual tradition, The Jubilation Choir, a community senior adult choir for ages 55 and up sponsored by the Salisbury Presbyterian Church for the seventeenth year, took the Midlo stage to debut their set. The choir has a total of seventy members who represent thirty-two different churches around the Richmond area. Each adult on the stage took joy in singing the Disney classic, Be Our Guest, as well as Praise His Holy Name, and You'll Never Walk Alone with Climb Ev'ry Mountain, under the direction of Paul S. Honaker. Juxtaposition, Virginia Tech's all-male a capella group also came to support the Midlothian High School Choral Program. Midlo Alumnus Austin Redden, who made an appearance in the group, enjoyed coming back to Midlo to see his former chorus teacher, Mrs. Michelle Graham, who "jump-started [his] love for singing in high school."
During the finale, Just For Show stole the show, revealing fairy tale-like outfits that represented the magic necessary to produce such a show-stopping performance. The passionate group sang: When You Wish Upon A Star, Brand New, We're A Couple of Misfits, It Don't Mean A Thing, Back Away from the Donkey Boy, Lullaby, and Power/Brand New. The fantastic show included soloists from John El-Jor, Garrett Redden, Charlie van den Oord, Will Johnson, and Sophia Nadder. Their performance lit up the theatre and proved why Midlo's Performing Arts program has such a stellar reputation.
When the curtain closed, loud cheers and claps rippled through the audience, creating a thunderous roar. Friends, family members, and music fans could not have been prouder of the fantastic performances that graced the Midlothian High stage. A celebration of food and fun followed in the Open Commons to conclude the successful event. Midlothian Chorus and Chorus Boosters would like to thank all sponsors and those who donated, allowing the program to continue to grow in the years to come.
Show Choir Band Members 
Trumpet: Justin Ackerley, Tom Simonick, Rachel Smith, Matt Tignor, and Mr. Forest Johnson
Trombone: Paul Covert, Andrew Morris, and James Pridgen
Alto Sax: Megan Fellstrom
Tenor Sax: Bradley Fellstrom and Sarah Harkness
Bari Sax: David Taylor
Baritone: Megan Wunderlich
Bass: Victoria Galdamez and Jake Petrillo
Guitar and Violin: Jinwoo Kim
Cello: Daniel Doh
Percussion: Michael Compoccia
Piano: Daniel Doh, Abby Fischer, and Jacob Giancaterino
Keyboard: Grace Gouyer
Leave a Comment
About the Contributor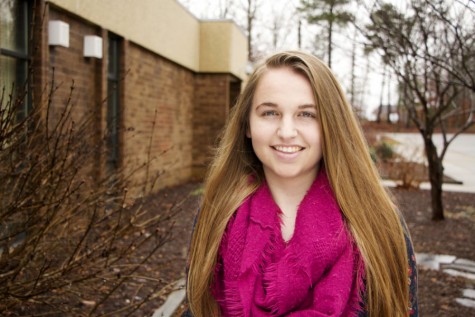 Merrill Livingston, Midlo Scoop Staff
Merrill Livingston, Class of 2018