A Season Comes to an End
Midlothian Boys Basketball went through many struggles throughout their season, but even though they had some early setbacks, they still managed to beat rivals James River and Powhatan, while also upsetting Clover Hill late in the season.
Midlo had their Senior Night against Manchester on February 8th. The Trojans graduated two seniors from their team, Nate Millar and Max Hurley, both important members of the team. Millar, a 6'6 senior, who has committed to Randolph Macon for football, finished his last home game dominating the glass. Max Hurley had a couple of beautiful passes early on to keep the game competitive. Unfortunately, Midlo could not pull out the victory and lost a close one to a good Manchester squad.
The end of the regular season came with tough loss to George Wythe, which boasts arguably the best player in the state in Maliek White. White, who committed to Providence University on a full basketball scholarship, created much difficulty for the Trojans when they faced Wythe in their first match-up of the year. After a rough first half, the Trojans came out in the third quarter and started to put the ball in the basket. However, the first half deficit was too much to overcome, as the Trojans lost their final regular season game of the year.
As the regular season ended, the playoffs began, and Midlothian drew Hanover in the first round of the Conference Playoffs. With nothing to lose, the Trojans came out on February 18th against the third seeded Hanover Hawks. The strength of the Hawks team was too much for the Trojans, as Midlo lost 71 – 43. This loss concludes the Trojans season, but with four returning starters and the loss of only two seniors, the future looks bright for Midlo Boys Basketball.
About the Writer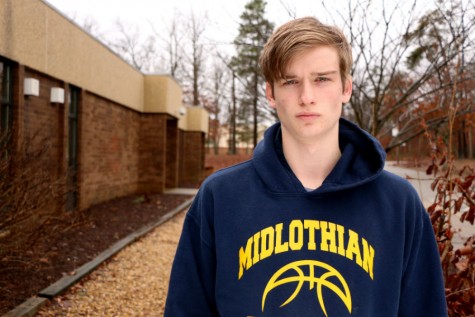 Lucas Via, Sports Editor
Lucas Via, Sports, Class of 2017