Trojans Settle Long-term Rivalry
Girls and Boys Basketball Teams Face the Monacan Chiefs
On January 23 and January 24, 2018, both the Midlothian High School girls and boys basketball teams faced off against the Monacan High School Chiefs in the second game of the long-established rivalry.  After previously losing to the Chiefs, the Lady Trojans were determined to win, as were the boys after their last game, where the Chiefs defeated them by 5 points in a very heated game. Freshman guards Abbie Campbell, Tiffani Bartee, Maddie Fath, and junior forward, Jessie Dziedzic, as well as senior forward Nia Lloyd started for the Lady Trojans. Junior guards Will Pomeroy, Henry Davis, senior guards Amir Reid and Will Brown, and senior forward Omar Jackson started for the Midlo Boys Varsity team.  
From the tip-off, the Lady Trojans fought hard on defense and dominated outside of the key, sinking many key 3-pointers.  At the end of the first quarter, Midlothian's head coach Adam Layton gave encouraging words to the team to lift their spirits when they fell behind.  Coach Layton said, "You're playing well; we just need to stop turning the ball over and box-out for rebounds.".  Although the Lady Trojans were down at the halftime, the game was hardly over.  Both teams fought hard, responding to the other team's plays.  By the end of the game, the Chiefs defeated the Trojans 53-38.
For the guys, the Chiefs/Trojans rivalry was settled in Midlothian High School's main gym.  Throughout the game, leads changed, which kept the crowd on edge, waiting to see which team would end up on top.  Although Midlo turned the ball over multiple times, they came together and drove at the Monacan defense. Even though the Trojans were down at halftime, Head Coach David Brohl told his team to "Be aggressive, be careful with the ball, and stop turning the ball over".  Throughout the second half, the Trojans dominated the court by making quick passes around the Chiefs' defense.  At the end of the game, leads changed back and forth, but with less than two seconds left, senior guard Will Brown made the final shot of the game to land the Trojans with a 55-53 win, settling this rivalry once and for all.
About the Contributor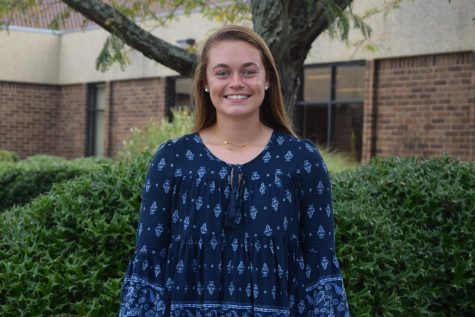 Erin Junkmann, Sports Editor
Erin Junkmann, Class of 2020