Celebrating the Class of 2017
Senior Class Day Assembly 2017
On Thursday, June 1, 2017, members of the Class of 2017 gathered to celebrate each other's success. Class President Sam Maguire welcomed the seniors and their family members, followed by Principal Shawn Abel, who recounted the many individual accomplishments of the senior class. As the morning progressed, members of the senior class filed across the stage to receive a long list of accolades from each of the departments, as well as academic letters.
Class officers Katherine Wroblewski and Daniel McLaughlin delivered a trip down memory lane with the Class History, followed by Blair Darrah and Hannah Epps, who delivered a moving rendition of Flight by Sutton Foster. The string of awards continued, including attendance, leadership, and outside awards. Class officers Alexa Battle and Elli Perkins gave a hilarious presentation of Senior Superlatives that brought the Class of 2017 to life, followed by impressive scholarships, and the Senior Slideshow.
As the program closed, Class of 2017 President Sam Maguire passed the gavel to 2018 President Kenny Harbula, followed by the recessional performed by the talented Midlo Orchestra.
Congratulations, Class of 2017!
English Department Awards
Write Now! Contest Recipients: Bradley Jenkins, Nadia Hassan, Hannah Hodges, and Mukti Patel
Forensic Speech and Debate 12th Grade Honor Medals:  Mac Cartier, Michael DeMatteo, and Mariha Junaid
Senior English Teacher Individual Awards: Mrs. Austin: Lauren Burns; Ms. Crerie: Beglis Munoz; Mrs. Hill: Danyelle Tobias; Mrs. Palenski: Jessica Jekanowski; Mrs. Tully: Carly Roberts; and Mr. Wilson: Anneke Craig
2017 National Scholastic Press Association Honor Roll for Yearbook: Allison Barthol, Olivia Coleman, Camryn Curry, Kayla Nadeau, Sydney Van Horn, and Caitlin Walker
Outstanding Journalism Student: Ellen Tucker
Senior Class Best Essayist: Dillon Powell
Best Senior English Student: Carly Roberts
Social Studies Department Awards
Social Studies Department 2017 Student of the Year: Mukti Patel
Mathematics Department Awards
Senior Virginia Math League Award: Dillon Powell
Outstanding Mathematics Student: Dillon Powell
Moody's Mega Math Challenge 2017 participants: Mac Cartier and Dillon Powell
Science Department Awards
AP Science Award: Michael DeMatteo
IB Science Award: Evan Arents
World Language Department Awards
National French Exam Silver Medal Recipient: Madison Chazo (ranked 10th nationally) 
Outstanding French Senior Award: Michael DeMatteo
Outstanding German Senior Award: Vivien Berft
Virginia Junior Classical League Convention First Place Recipients: Anneke Craig, Mukti Patel, and Billie VanStory
National Latin Exam Silver Medalist: Mac Cartier
Outstanding Latin Senior Award: Mac Cartier
Outstanding Spanish Senior Award: Nadia Hassan
Career and Technology Education Department Awards
Business Student of the Year: Hunter Coker
Outstanding Student in Information Technology: Derrick Bassett
Marketing Student of the Year: Jay Gonzalez
Outstanding Student in Engineering and Robotics: Grayson Hesch
Fine Arts Department Awards
Outstanding Photo Students: Maggie Self and Alexa Battle
Outstanding 3D Design Students: Natalie Webster and Danyelle Tobias
Outstanding Art Students: Olivia Gonzalez and Kael Rison
Outstanding Graphics Students: Kate Morris and Michael South
Outstanding Chorus Students: Katie Murphy and Andrea Taylor

Best Theatre Department Students:

Sean Dudley and Sophia Trout
Theatre Letters: (Left to Right):  Andrea Taylor, Gabe Lumpkin, Ed Thomas, Sophia Trout, Mikaela Gray, Sean Dudley, Dani Granville, Micah Mitten, Zeke Leeper
Health and Physical Education Department/Athletic Awards
Distinguished HPE Student Awards: Brandon DeMarco, Dylan Geoghegan, and Josh Pace
Virginia Sports Hall of Fame Student Achievement Award: Grace Clarke
Richmond Times Dispatch/Richmond Sports Backers Scholar Athletes: Grace Clarke and Dillon Powell
United States Marine Corps Distinguished Athletes: Natalie Webster and Eric Overby
United States Army National Scholar Athlete Award for Academic and Athletic Excellence: Nora Mulroy and Court Warfield
Central Virginia Interscholastic Athletic Administrators Association Athletic Leadership Awards: Grace Clarke, Abby Snead, Dillon Powell, and Ivan Jackson
Athletics: Team Accomplishments
Girls Cross Country: Conference 20 Champion
Boys Cross Country: Conference 20 Champion, Region 4A East Champion
Girls Volleyball: Conference 20 Champion
Field Hockey: Conference 20 Champion
Boys Indoor Track: Conference 20 Champion, Region 4A East Champion
Girls Indoor Track: Conference 20 Champion, Region 4A East Champion
Boys Outdoor Track: Conference 20 Champion, Competing in 4A State Championship
Girls Outdoor Track: Conference 20 Champion, 4A East Regional Champion, Competing in 4A East State Champion
Girls Lacrosse: Conference 20 Champion
Boys Lacrosse: Conference 20 Champion
Boys Tennis: Conference 20 Champion, 4A East Regional Co-Champion, Playing in State Semi-finals
Academic and Leadership Awards
Four Years Perfect Attendance: Manar Basir, Mackenzie Fuller, Phoebe Jackson, Alexandra Josephson
Grace Kim, Tyana Martin, Ellen Tucker, Nicholas Walsh, and Christopher Yang
Midlothian Leadership Awards: Evan Arents, Alexa Battle, Bailey Blair, Camryn Curry, Sean Dudley, Hannah Epps, Mackenzie Fuller, Tyler Gregory, Isobel Harrison, Ivan Jackson, Christina Lindenfeld, Sam Maguire, Daniel McLaughlin, Nora Mulroy, Adam Olsen, Mukti Patel, Elizabeth Perkins, Dillon Powell, Adrienne Preston, Carly Roberts, Lauren Roper, Sophia Trout, Mallory Turner, Billie VanStory, Caitlin Walker, Court Warfield, Katherine Wroblewski
Superintendent's Student Advisory Group Representative: Elizabeth Perkins
2017 Midlo Student of the Year: Bailey  Blair
National Academy of Future Physicians and Medical Scientists Award of Excellence: Caroline Majetic
All-State Scholastic Bowl Team: Hayden Calhoun
National Merit Scholarship Program Letter of Commendation: Mac Cartier, Bradley Jenkins, Nora Mulroy, and Dillon Powell
National Merit Scholarship Program Finalist: Madison Chazo (ranks in top 1% nationally)
Outstanding Success Mentor: Hamza Ababneh,  Natalie Webster, and Alyssa Wesby
Success Achievement Awards: Beglis Munoz-Alivarez and Hendrik Schunn
Team 6334 Robotics Team "Aluminati" competed in World Championships. Senior recognitions: Greyson Hesch and Moira Roach
United States Marine Corps Scholastic Excellence Award: Dillon Powell and Isobel Harrison
Richard B. Engard Award: Breanna Ramey
American Legion Americanism Award: Garyth Morgan
Interfaith Council of Greater Richmond Brotherhood/Sisterhood Award: Billie VanStory
Herff Jones Principal Leadership Award: Isobel Harrison
Homework Helpers Tutoring/Mentoring Scholarship: Molly Fletcher and Rachel Trebour
Class of 2017 Scholarships and Recognitions
Appointment to United States Military Academy at West Point ($250,000): Garyth Morgan
National Merit Scholarship Corporation James E. Casey Scholarship ($2,500): Grace Clarke
Class of 2017 Seniors Committed to Serve Our Country Through One of the Military Branches of Service: Christopher Cassidy, Jaquinta Hall, Phillip Radcliff, Lauren Roper, and Emma Wild, Thank you for your service!
Comcast Leaders and Achievers Scholarship ($1,000): Isobel Harrison
Chesterfield County 4-H Youth Development Scholarship ($1,500): Ivan Jackson
Chesterfield Association of Educational Office Professionals 2017 Carol Deaton Memorial Scholarship ($500): John Maiorana
Renee Packard Scholarship ($500): Abigail Snead
Daughters of the American Revolution Old Dominion Chapter Scholarship ($200): Mackenzie Fuller
The Community Foundation R.C. and Betsy Williamson Scholarship ($14,000): Mackenzie Fuller
Wegman's "Who We Are" Scholarship ($500): Hu'Niqkua McAllister
GRASP Last Dollar Scholarship ($1,000): Madelyn Jimerson
GRASP Last Dollar Scholarship ($500): Mishaal Gilani and Crystal Young
GRASP 2+2 Scholarship ($1,000): Genesis Boston
Midlothian Rotary Scholarship ($1,000):  Mukti Patel
Chesterfield Ruritan Club Scholarship ($1,000): Mukti Patel
Delta Chapter of Alpha Delta Kappa Scholarship ($1,000): Phoebe Jackson
Delta Chapter of Alpha Delta Kappa Scholarship ($500): Mukti Patel
Beta Phi Chapter of Alpha Delta Kappa Scholarship ($500): Hannah Epps
J.B. Watkins PTA Scholarship ($500): Molly Fletcher
Jessica Pascual Circle of Hope Memorial Scholarships ($650): Ally Gleason and Maggie Self
Renee Wagner Smoots Memorial Scholarship ($2,000): Dillon Powell
Renee Wagner Smoots Best Overall Math Student Scholarship ($500): Dillon Powell
Spirit Club Scholarships: Hannah Wells, Jasmine Nivar, and Gabriel Fenyes
Crime Solvers Scholastic Program Scholarships ($500): Megan Phelps and Genevieve Benzinger
Band Boosters Awards  ($500): Evan Arents, Adam Olsen, Caitlin Walker, and Caroline Majetic
Midlothian High School Chorus Boosters Scholarships  ($500): Bailey Blair, Katie Murphy, and Andrea Taylor
Theatre Partisans Sarah Bruce Memorial Scholarships ($1,000): Sophia Trout and Sean Dudley
FBLA Scholarship: Robert Marker
Christine Wilson Spanish Club Award  ($500): Elli Perkins
German Honor Society and German Club Scholarship ($150): Nathaniel Law and Michael Velle
Latin Club Senior Scholarship ($1,000): Mukti Patel
Midlothian High School PTSO Scholarship ($500): Gillian Durrette, Alexandra Gleason, Yujiao Gu, Mukti Patel, and Billie VanStory
Virginia A. Justis Chapter of National Honor Society Scholarships ($300): Genevieve Benzinger, Mikaela Gray, Nadia Hassan, Hannah Hodges, Adrienne Preston, and Billie VanStory
SCA Leadership Award ($250): Isobel Harrison
Midlothian Athletic Boosters Association Awards ($500): Joey Doherty, Lauren Elmore, Amy Goodman, Ivan Jackson, McKenna Steele, Nora Mulroy, Dillon Powell, Abby Snead, and Elizabeth Vincent
Class of 1995 President's Scholarship in Honor of Al Park ($1,000): Mukti Patel (inspired by Mrs. Amy Petersen)
Midlothian High School Faculty Scholarship ($500): Kyelin Thrift
Senior Class of 2017 Scholarships ($1,500): Adrienne Preston and Lucas Via
About the Contributor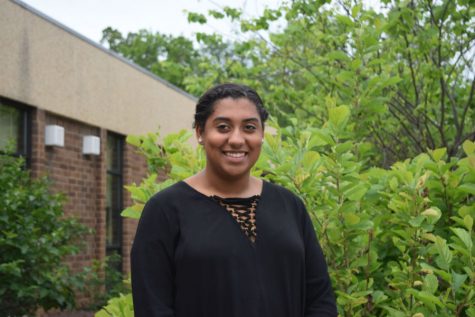 Alexa Battle, Photographer
Alexa Battle, Class of 2017